At Angel Hair Extensions it is easy to achieve the long luscious locks you have been dreaming of. However, after many months of wear your extensions will need to be removed and replaced. Removal is different for all types of extensions depending on the method of extensions you have in. So here for you we have written an article on how we remove all hair extension types.
Will I ruin my hair if I remove my extensions myself?
We are aware that the hair extension removal process can be a bit lengthy and also costs money, but at Angel Hair Extensions ensuring clients have healthy hair is our number one priority.
So yes it is a big risk to carry out the hair extension removal process yourself. There is a risk of you damaging your hair or not being able to remove the extensions properly so it is always recommended you visit your technician or seek professional advice.
So how do we remove different types of hair extensions? Below are some professional removal tips for the different methods of extensions.
1. Keratin Bond Extensions
Keratin pre bonded extensions are attached to your hair via keratin glue. Keratin is a natural protein and is included in a lot of salon products; a lot of our clients find that their hair generally grows faster than normal with these extensions as keratin is known to promote hair growth.
The keratin bonds are sealed with heat and are very small when fitted, making them hard to notice and very durable, and meaning their lifespan can be between three to five months.
For the removal, we use a specially designed keratin bond removal solution, which is kind and gentle to your natural hair. This is applied to each bond one at a time and then pliers are used to gently crush the bond, which has been broken down by the removal solution.
The result is that the bond turns into a white powder and then the extension slips freely from your hair, and the residue is then combed out.
The removal time can take between one to two and a half hours. For keratin bond extension removal the price is around £40 per hour. Bond removal should never be painful or pull / tug at your hair. With the correct removal solution and technique it should feel completely pain free and comfortable, for more information contact one of our hair extension technicians in Northampton.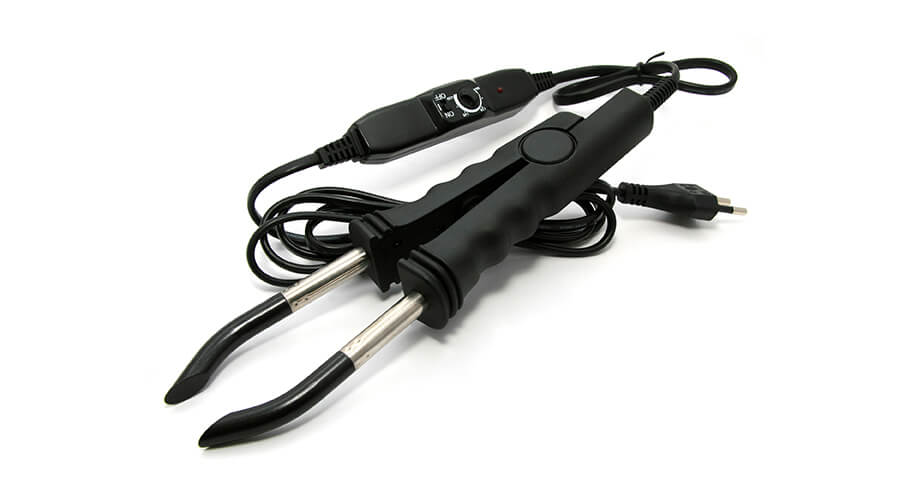 2. LA Weave Extensions
LA Weave Hair Extensions are sewn in, and it's easy to tell when they're ready to be removed, the extensions would have grown down after 6-10 weeks wear and begin to lift away from the scalp which makes removal a bit more straightforward.
The LA Weave hair can be reused for up to 9 months so most clients come to have them removed and re-fitted in one go, which takes around 60 -90 minutes.
We remove LA Weave extensions one track at a time by cutting the thread and then removing the micro rings with pliers
Professional removal costs between £10- £20 for the removal of sewn in LA Weave extensions which can be carried out in around 15 minutes
It is strongly recommended that the removal of the LA Weave extensions is conducted by a professional hair extension technician, who is trained in the LA Weave technique. If you attempt to remove your extensions yourself there is a strong possibility you can cut your hair.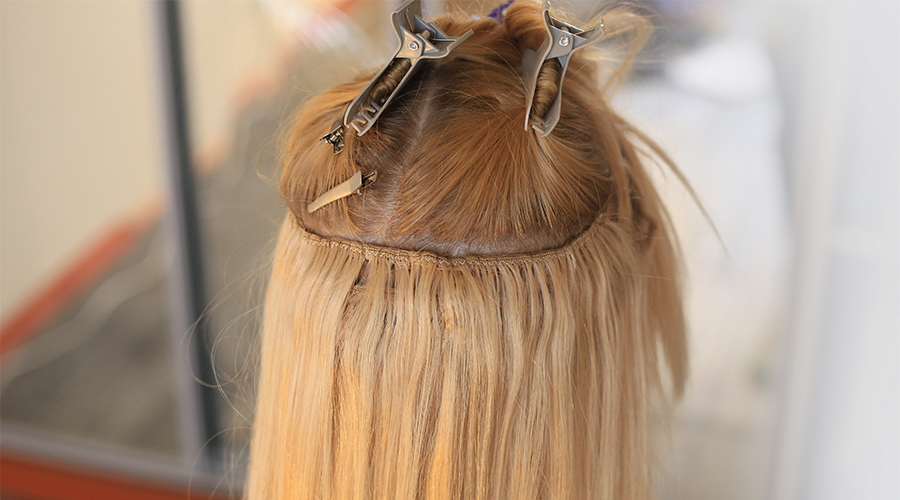 4. Micro Rings
3. Micro Rings
Micro rings extensions are fitted to strands of your hair which are secured to the extension hair via a small metal ring.
Micro rings are a popular option as every eight weeks they can be moved up and re-tightened, meaning they have a longer lifespan.
Micro ring removal is relatively quick and takes between thirty minutes to an hour, and should always be conducted in a salon or by a professional as there is the risk of pulling your hair out or clamping the ring incorrectly and it then becoming stuck in your hair.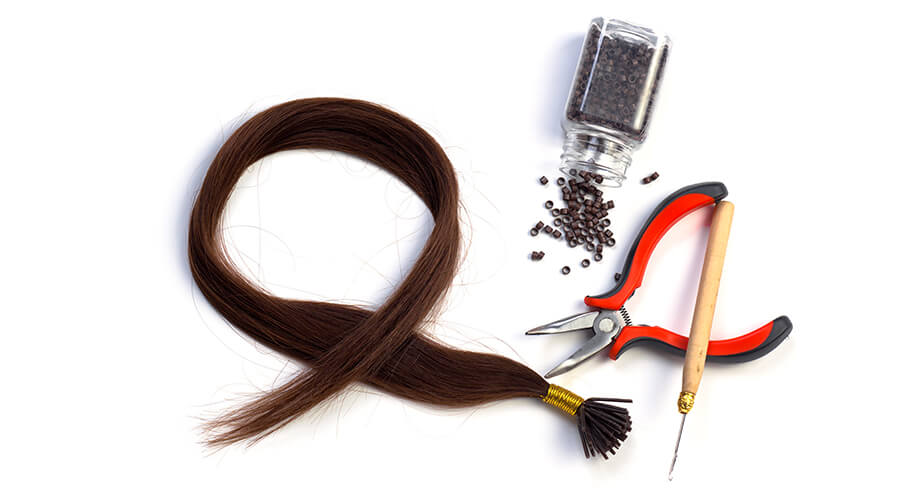 5. Nano Rings
4. Nano Rings
Nano rings are the smallest and most discrete hair extensions available. They are mainly used on fine hair or light blonde hair due to the fact they're so minuscule and can be placed higher on your head to avoid detection.
Unlike Micro Rings, Nano ring extensions cannot be moved up and tightened as the rings are too tiny to be opened and closed, therefore it is recommended that clients come back every two to three months to get them all taken out and re-fitted using the same hair.
Nano Rings are suitable for nearly all hair types, unlike Micro Rings, which aren't ideal for light blonde or fine hair as the rings are 90% bigger so could be more visible.
Nano Ring extensions aren't recommended if you have oily or very soft hair, as some of the rings may slip down, meaning you have to have them re-fitted sooner.
Just like the Keratin Bonds and Micro Rings, removal prices are around £40 per hour for removal time. Nano Ring removal is precisely the same as Micro Ring removal, and it is still strongly advised you get them removed properly and professionally.