Here at Angel Hair Extensions, we are always looking for the latest hair extension application METHODS or experimenting with the newest most innovative hair extensions. And that's why we are now offering tape hair extensions to broaden our services for all of our customers!
What Are Tape Hair Extensions?
Tape extensions are the fastest salon professional method. They are the perfect extension method for anyone on the go and can be used to create unique colour blends, colour slices, length and volume
Tape in hair extensions are small tape wefts that are "taped" in between sections of your natural hair in sandwich like pieces. It is considered one of the most efficient hair extension applications, as it is kind to your hair and completely damage free.
The Slim-Line Tape system integrates into the hairline by placing the extension directly on the root of the hair using lightweight tape-in hair extensions. Made from a super flat polyurethane weft strip, each pre-taped piece is ready to apply and stays fixed for weeks, with just the right weight of healthy, cuticle retained Remy hair to create a natural blend, whilst causing no stress or damage to the natural hair.
Beauty Works Slim-Line Tape extensions are hand placed onto a transparent flat PU material, minimising the thickness of other tape-in systems.
Their specially formulated medical grade adhesive means installation lasts much longer than typical tape glue, which can slip or slide usually within 2-3 weeks. Beauty Works tape-in method lasts approximately 6-8 weeks and withstands washing and brushing and removal takes place within seconds with their specially formulated hair extension remover.
Tape in extensions are regularly used by celebrities, such as the Kardashians, for everyday life as well as for special events, the reason for this being that they are so quick and easy to apply. The application time of tape hair extensions in Milton Keynes is significantly reduced as opposed to a process such as applying individual strand extensions, which can be quite lengthy depending on the method.
When looking into something like getting hair extensions fitted, it's important to come in and see us for a free consultation to find out more about what the process entails and what the best options are for your hair and lifestyle, along with getting the perfect colour match.
You can research all of the different methods we offer on our website or ask one of our highly trained hair extension technicians in Northampton what your aftercare regime for your tape in extensions should entail. If you're interested in our tape hair extensions in Northampton, then keep reading!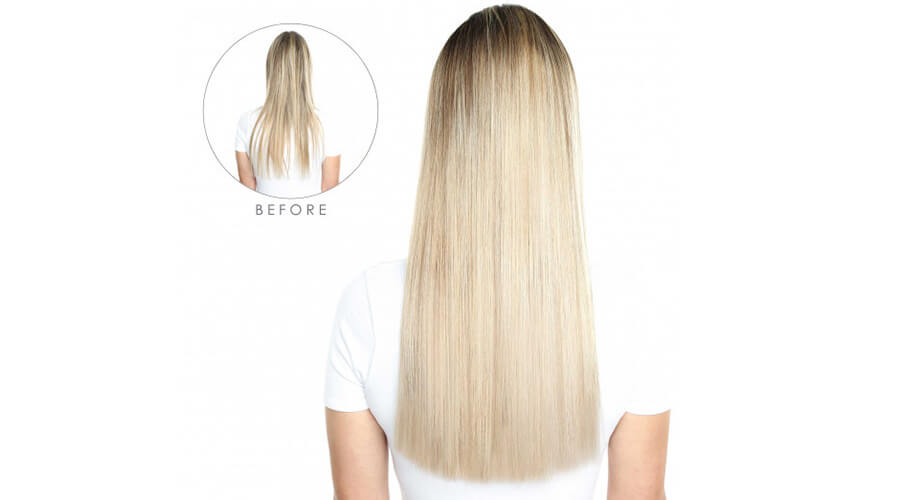 Beauty Works Tape Extensions
Our technicians have been fully trained by Beauty Works to ensure that we are completely qualified and have the experience to apply tape hair extensions to our customers.
Here are some of the advantages of choosing to have your tape hair extensions fitted by us:
We only use Beauty Works Slim Line Tape Extensions
High-Quality Remy Hair: Beautifully crafted hair extensions made from real European hair, handcrafted and selected from the healthiest human hair.
Double Drawn: Each strand of hair selected by hand for perfectly thick hair extensions from root to tip.
New Technology: Using natural pigments Beauty Works have created a range of unique colours to choose from, each strand of hair is hand processed for long lasting shine and colour.
Cuticle Retained: This gentle formula ensures a retained cuticle that gives the hair a natural shine, alongside protecting the hair's core structure.
Lifespan
With tape extensions, you can keep re-using the same hair by simply coming back for maintenance appointments every 6-8 weeks to have the extensions removed and refitted. We replace the tape part of the extensions so that they are like brand new, which is what makes them so attractive. With the correct aftercare, you can keep re-using your tape extensions for up to 6-9 months – just ask your hair extension technician about the aftercare procedure and the recommended hair extension products you can use to help keep your extensions long lasting, shiny and healthy.
Only Use A Professional
Although tape extensions sound relatively straightforward to apply, a professional should only ever be the one to apply them for you to avoid the risk of causing any damage to your hair or getting the extensions stuck to your scalp.
Save Time And Money!
Tape in hair extensions have been branded the most cost effective hair extension option and are also found to be the least expensive semi-permanent hair extension method.
Not only this but for your whole head of hair to be fitted with tape in hair extensions it takes less than 1 hour! Making it not only the most cost-effective but also the fastest semi-permanent hair extensions method!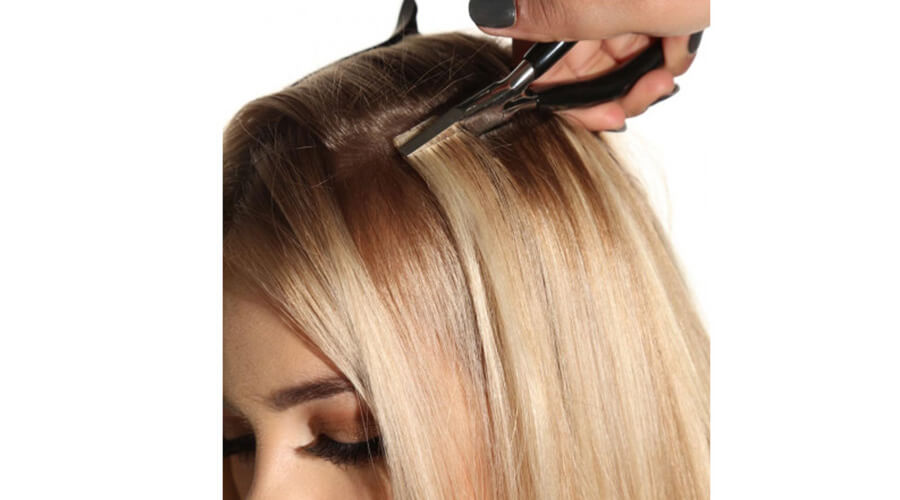 Strong And Withstanding
If you're a gym bunny or regularly take part in a lot of physical activities then these are the perfect extensions for you, they're extremely durable and are completely workout friendly. You are still able to sweat and swim with them in every day, and the tape will never be broken down – not to mention your hair will look great!
They are also able to withstand hair grips and hair bands, so you're still able to wear your hair up in a ponytail, and your extensions won't be visible at all!
Summary
So our new tape extensions service is going to be popular amongst our wide variety of customers! They're perfectly suited to everyone's needs and most hair types, lay completely flat in the hair, and are almost invisible.
We hope this article was informative, and if you're interested in any of our hair extensions services then explore the rest of our website and view some of our other methods we provide. Or contact us today to book your free consultation!