A lot of us girls try to grow our hair, but sometimes it can be stubborn and doesn't want to grow at the pace you would like it to. You might be surprised, but there are a few things you have been told by magazines and bloggers that make you think they will grow your hair longer, however, in fact, a couple of these tips are more damaging to your hair then you may think. Here we are going to discuss our top tips for long healthy hair.
How to achieve long healthy hair
You may be thinking why are we writing an article for growing hair when we fit hair extensions, well we believe following these top tips can also benefit your hair extensions massively. We use human hair to give our clients the best natural look, whether they want length or volume. A lot of our clients ask us the same questions of how to take care and maintain their hair for prolonged wear, so we're going to answer those questions.
Skip the daily shampoo
We understand that many of you love the feeling of fresh, clean locks however this can be extremely damaging to not only your hair but also your scalp. Washing your hair often or too much can stop the natural oils from producing in your hair. Meaning that your hair is dehydrated and is more likely to break or get split ends. We recently wrote an article on how often you should wash your hair so if you are unsure of when to clean your locks give it a read.
Finish your shower with a cool rinse
While hot showers are great for warming you up during the winter months, they can be somewhat damaging to your hair. Rinsing your hair in cool water prevents the hair cuticles from opening, meaning it becomes smoother, helping it reflect more light making it have the appearance of more shine. We also recommend that when you do wash your hair with conditioner, you only pop it in the ends of your hair. If its close to the scalp and isn't washed out correctly, it can cause itching, and no one wants that. If you are using conditioner on micro ring extensions, we also recommend that you keep them away from bonds as it can make it loose meaning they could drop.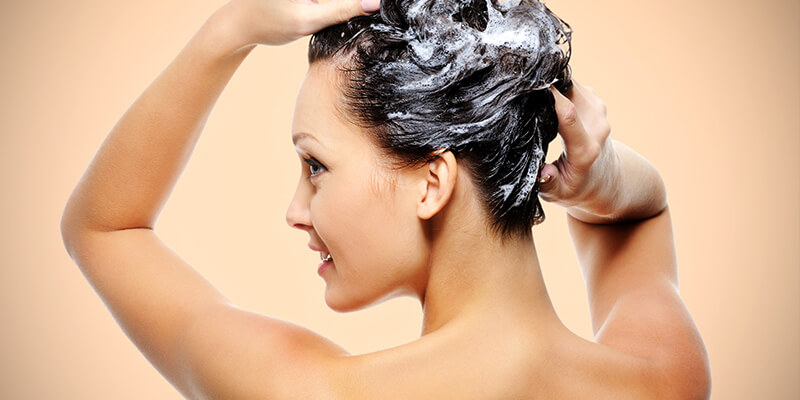 Eat the right foods
Eating the right diet is great for your general health but also fantastic for your hair. Ensuring your body is getting the right nutrients, and vitamins are vital to healthy hair and long locks. One of the main sources of produce you can eat to maintain good hair growth is protein, so we recommend you eat some eggs as they are one of the richest sources of protein. Iron is an essential mineral that your hair cells need if you are deficient in iron you can experience hair loss. By having plenty of iron, your hair strands become stronger and are less likely to break. For your body to be able to absorb iron it needs plenty of Vitamin C intake, the best food group for your body to receive this is Citrus fruits such as lemon, grapefruit and limes. Omega 3 fatty acids help your hair thicken and more nourished, you can get this from nuts and seeds.
Don't use a brush with wet hair
Using a brush on wet hair can be extremely damaging as your hair is more susceptible to breakage however, unfortunately, our hair isn't always silky smooth and knot free when you get out the shower. We recommend that you get yourself a wide tooth comb from Feel Unique, they are great for detangling your locks. You will also find that by using a wide tooth comb, your hair is less likely to fall out or break. It also reduces frayed and split ends; wide tooth combs are especially great for people with hair extension and curly hair.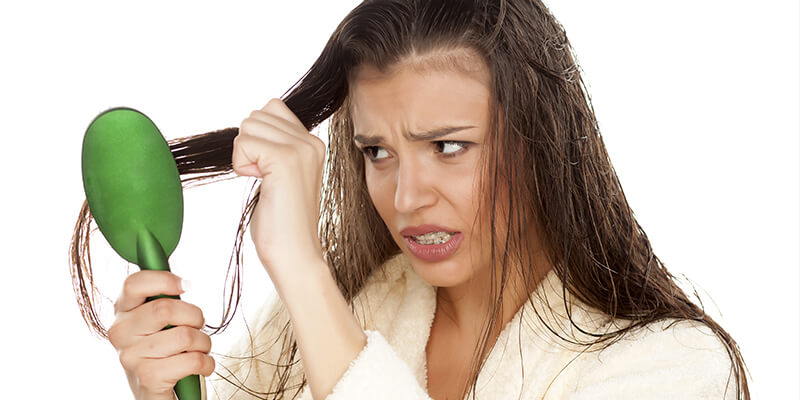 Silk Pillows
Most of us have gone to bed with freshly brushed hair and done most things in our power to try and stop hair from detangling, but there's a fat chance well wake up, and it'll be a bushy old mess. There is a little tip you can go by, and that's purchasing yourself a silk pillow, we know sounds pretentious, but it really does help. Silk pillows are easy on the hair and prevent your hair from getting as many tangles and breakages as cotton would. You can purchase a variety of coloured silk pillowcases from Cult Beauty.
Avoid heat
You probably hear this from your hair stylist so often, but avoiding heat will do wonders for your hair. We also suggest you purchase yourself a decent hair protector otherwise you may experience split ends and some serious frizz. If it is necessary for you to use heat we always recommend that you ensure you turn it down fairly low as it will help reduce damage. There are so many different styles you can now create without using heat. Take a look at the video below for some heatless hair styles inspiration.
Summary
There are a number of things you can do to help reduce the risk of damage and promote healthy hair for strong growth. While you may not see a vast difference in the growth of your hair leaving the heat off of it and using a wide tooth comb will prevent you from losing hair and creating unnecessary damage. Ensuring your body is receiving the right nutrients and vitamins can help your hair growth, it maintains the oils and proteins that allow your hair to grow.
We hope you like this article, so please feel free to share on social media!