For the majority of women, their hair is their pride and joy. Whether you prefer a gorgeous updo or a simple bouncy blow dry, your hair can be a centrepiece to your whole look; a great hair day can boost confidence massively. However, on average 40% of women suffer from hair thinning and hair loss, which can cause styling and day to day upkeep a little trickier. Thankfully, there are many different solutions to these frustrating issues, so we're going to talk you through our favourites.
Resolve Hair Thinning And Hair Loss
The positive upside to the issue of hair thinning and hair loss is that nowadays there is a whole host of fantastic solutions, which will help you achieve more natural looking results than ever. Not only can hair loss be caused by medical conditions, but putting your hair through extensive styling and strain can also cause a negative impact on your growth cycle. Here we discuss proven ways to solve hair issues through both home cures and solutions that involve a little help from a professional.
Natural Remedies
It is common that before opting for booking in for a treatment or cosmetic solution, people try out one or two home remedies to see if your body can naturally repair itself. Take a look at some of the most popular home treatments!
Oil Scalp Massages
Not only do massages help to achieve maximum relaxation, relieving stress which is a cause of hair loss, but they are also a fantastic way to stimulate blood flow within the body. The more you encourage blood flow, especially in the scalp area, the more your hair follicles will start to strengthen and grow quicker. During a massage, pressure is applied to the scalp, which helps to open up blood vessels more, helping blood circulate and flow through the head quicker, boosting hair growth. Scalp massages can easily be done at home; it is always recommended to use a natural oil such as coconut or argan oil, you are more than likely to have olive oil at home already, which can also be used. If your hair is dry or brittle, you could even pop on a shower cap afterwards to let your hair soak in the oil and then wash it off later.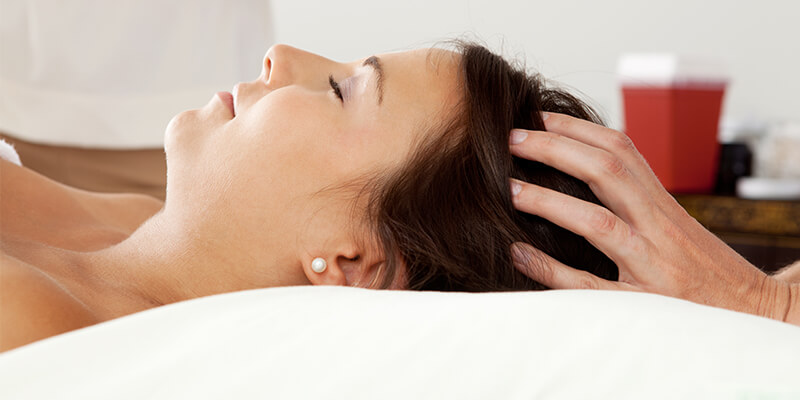 Onion Juice
Although this sounds like a very peculiar and offputting home remedy, it is one of the most popular natural solutions to aid hair growth. Onion juice contains sulfur, which is a packed full of protein that your body needs, in particular, keratin which is crucial to help strengthen hair. Similarly to oil massages, onion juice also stimulates blood flow to help hair growth. To gain the best results, it is recommended to peel the onion and strain the out the juices yourself to ensure that you are only using completely natural extracts. Soak a cotton pad in the juices then gently dab the juice onto your scalp and massage in. How long you leave the juice on is your choice, it can be left to soak in for up to an hour, then wash off.
Aloe Vera
Through research, it has been found that aloe vera can help hair to grow quicker and starts by improving the health of your scalp. Aloe vera consists of 3 major vitamins, vitamin A, C and E, all of which are crucial tools to make your cells grow at a better rate and reduce the likelihood of hair falling out. It is known for containing ingredients that assist healing, which is why it is usually used for things such as sunburn, so also can repair damaged follicles.
Hair Extensions
Hair extensions are growing in popularity, and we are now not just limited to your generic clip in extensions. Nowadays, a more long-term approach is taken to hair extensions, which means that you no longer have to worry about application each morning. You may be a little more limited to the type of extensions you can get with thinner hair because you do not want anything too heavy that could damage the hair, but there are still options. Tape in hair extensions would be the best choice, and they have the quickest application time, only taking up to an hour to apply. They are the kindest type of hair extensions to your hair which is crucial if you suffer from hair loss and they do not cause any damage to the hair follicles. The hair will come in a strip and will be taped between thin sections of your natural hair, then built up to the thickness you require. The tape wefts are very light so do not cause any strain on the hair and can be treated as if they are your natural hair, so can be washed and styled as you would do so normally.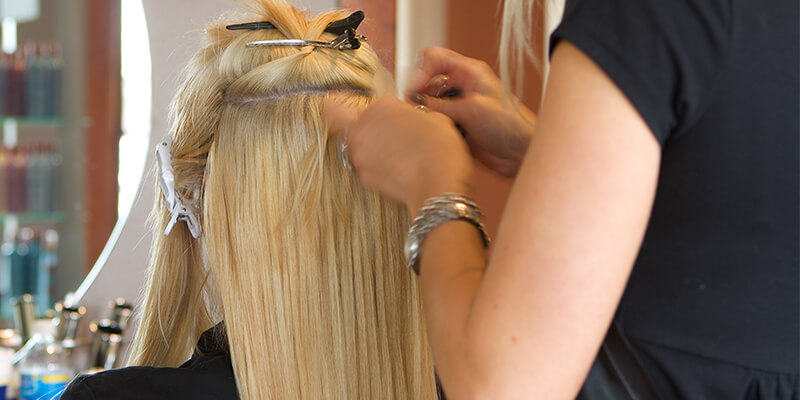 Scalp Micro-Pigmentation
Scalp micro-pigmentation is a new treatment that is used to recreate the appearance of hair. It will not stimulate hair growth but is excellent for filling in areas which are thinner. Some women naturally have a hairline which is further back on the scalp and others start to suffer from a receding hairline with age. Natural ink is used during the treatment and is injected into the scalp using tiny dots to give the illusion of a fuller head of hair. Although a noticeable difference can be seen immediately, it will take a few sessions to build up the colour to create the full impact.
Take Care Of Your Hair
There are many different excellent solutions to hair thinning and hair loss, there are some causes that cannot be helped, but there are also many tips to ensure your hair is healthy. Changing small sections of your routine can make a huge difference to your hair such as allowing your hair to dry on its own without using a hairdryer. Try to refrain from applying heat to your hair and when you do, adjust to a lower heating setting and always use heat protection.