With all the different heat and curling tools available it can often be daunting which ones to choose especially when it comes to extensions. If you like to take care of your locks and want to make your hair last longer the best way to do this is by researching what styling tools to use.
What styling tools can I use?
Before you even consider styling tools you are going to want to think about the types of products you put on your hair. To get the most out of your extensions we highly recommend using a heat protection spray such as TRESemme protect heat defence styling spray.
Babyliss Big Hair
Babyliss big hair is great for those of you who love that bouncy blow dry look. It is essentially a hairdryer with a rotating brush attached, so rather than having to use two separate pieces of equipment you can use one. We always recommend slightly rough drying your hair first or leaving it to dry a little before using. You ideally want your hair to be slightly damp before using this product. It is also great for lifting your roots if you wanting that extra bit of volume.
Revlon Perfectionist Paddle Dryer
Revlon recently released the new Revlon perfectionist paddle dryer. It's great for those of you who love straight hair it allows you to get maximum volume while drying your hair. Unlike the Babyliss big hair you do not need to blow dry your hair with a hairdryer before using. You can use this tool straight onto wet hair, so it's a good option if you're in a bit of a rush in the morning.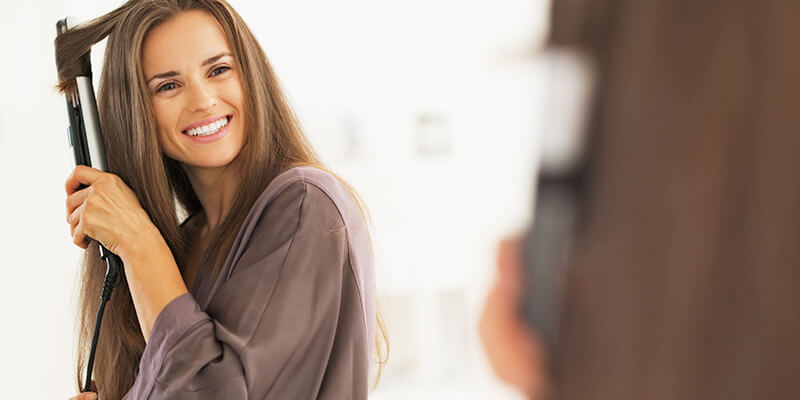 Cloud Nine Curling Wand
If you are looking for those beachy waves Cloud nine curling wand is the best option for you. It is simple and easy to use, it also comes with a heat resistant carry case which means you can pack it up without worrying whether it will damage your carpet. The wand has a 25mm barrel which infused with minerals to ensure maximum shine as well as softness. There is also the option to purchase a larger barrel if you are looking for larger waves or curls. This is a fantastic option if you want your curls to last all day, with other curling wands we have found after a couple of hours your hair will start to drop however with the cloud nine curling wand you do not have this issue. Another feature we really like on this curling wand is the fact it turns off after 30 minutes of use. Have you ever doubted whether you left the curlers on? Well, now you don't have to.
Trevor Sorbie Keratin + Argan Magnetic Multi Wand
If your one of those girls that love to have a different hairstyle every day than you should consider getting the Trevor Sorbie Keratin + Argan Magnetic Multi Wand. It provides you with the freedom to chop and change your style with three different wands, a curling wan, waving wand and drop curl wand. This product still helps you keep your micro ring hair extensions in Milton Keynes glossy and intact throughout the day. We like that this product is perfect for an event or festival, it allows you to create a range of voluminous styles which are quick and easy.
Heat products
We previously mentioned that you will need to use a heat protection spray to ensure when using a styling tool your hair is not burning or damaging. But there are also other products you can and cannot use on hair extensions.
Oil based products
You can use oil-based products, but you will need to be careful about where you put them in your hair. We always suggest putting it towards the end of the hair; the ultimate goal is to keep your hair as soft and healthy as possible. If you place oil-based products towards to roots and tops of your hair, you are more likely than not going to experience slipping. This means that when your bonds are put in, they are usually placed into dry clean hair. Once the oil hits the roots, it acts as a lubricant which can make your bonds slip, which only means you'll be back to your extension technician much sooner than you had hoped.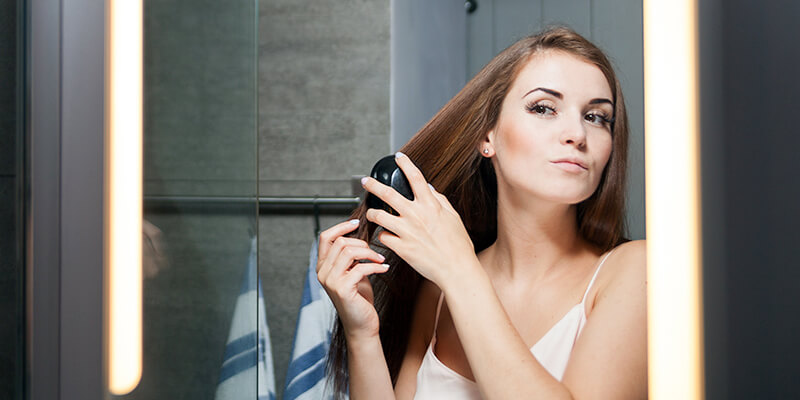 Dry Shampoo
If you have extensions, dry shampoo is going to be your new best friend. After having hair extensions applied you should not be washing your hair for the next 48 hours. Once this time period passes, you should only be washing your hair twice a week. Unfortunately, not all of us can get past day three without gaining any grease. Dry shampoo is a great way to address this not only does it help minimise the grease in your hair but it also makes it smell night as well as adding volume back into the roots.
Detangle Brush
One of the most annoying things you may experience with extensions is the tangling of your locks. It is inevitably going to happen either when working out or simply sleeping. We always suggest to any of our clients to purchase a tangle teezer, it is one of the best brushes to use to detangle extensions, which won't rip your hair out in the process. If your hair is more prone to tangling, we recommend when washing, brush the conditioner into the lower section of your hair as it will slowly help the detangling process once out the shower.
Best styling tools
We hope this article helps you come to a decision on what tools to use on your hair extensions. We would always recommend that while heating tools are great for giving your volume and style, you should always give your hair a break every so often. Constant heat styling can still damage your hair so take extra care with the products you apply. An oil-based product is fantastic for rejuvenating the ends of your hair but should never go near the roots. Always use a heat protection spray before applying any form of heat, this also goes for the hairdryer.