Angel Hair Extensions Milton Keynes are proud to announce we are sponsoring one of Miss Bedfordshire 2017 finalists, Miss Ashleigh Hale!
What Is Miss Bedfordshire?
Miss Bedfordshire is a Beauty Pageant that has taken place for many years! Angel Hair Extensions Milton Keynes is sponsoring Ashleigh Hale as one of the finalists in the pageant.
About Ashleigh
Ashleigh is 23 years old and graduated from university last summer after studying Biomedical Science. She now works for Public Health England as a healthcare scientist. Ashleigh has always been interested in science, due to the fact she and her granddad are both type 1 diabetics, although Ashleigh refuses to let this hold her back and has a great support system, and feels lucky as she knows it could've been a lot worse.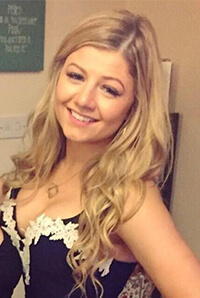 Ashleigh has always wanted to apply to be a contestant in Miss Bedfordshire but had never been able to pluck up the courage to do so – until now. With high hopes of winning she has explained what an honour it would be to represent the county that she has grown up in. She is keen to use this opportunity to encourage the generations below her who have an interest in science.
Ashleigh claims she would love to participate in more charity events and aid in raising money for important charities such as "Beauty with a Purpose" – A charity linked with Miss World that raises money and helps disadvantaged children across the world.
Every week Ashleigh attends Girl Guides UK and is in the process of training to become a Girl Guide Leader. To keep herself in shape she regularly attends Pole Fitness and Dance Classes.
With her own business venture, Ashleigh has recently created her own online business. She enjoyed art and decided it was time to turn one of her passions into something more – Selling her artwork online as originals and prints, Ashleigh is creating a career by investing in one of her hobbies.
Ashleigh claims she is ecstatic for the Miss Bedfordshire finals and gives a huge thank you to her amazing sponsor; Rachel at Angel Hair Extensions Milton Keynes and adds "I couldn't have done it without her!"
The Miss Bedfordshire finals are this Sunday 14th May, and we at Angel Hair Extensions Milton Keynes will be there to support Ashleigh, and wish her the best of luck for the finals – we hope that all of her hard work has paid off!