When deciding to have hair extensions fitted, you must ensure that you are prepared to follow the correct aftercare process and use the recommended products suitable for your hair extensions in order for them to stay in good condition and to increase the longevity of the lifespan of the hair. Hundreds of products are available on the market, but it's important that you choose the ones which are correct for the type of extensions that you choose. Shampoos and conditioners are available in every shop, however, you may want to invest in the recommended products suited specially for hair extensions and there are also a few other hair aftercare products to keep your extensions in tip-top shape. Here at Angel Hair Extensions we only sell and recommend the best products made by Beauty Works and designed specially for our Beauty Works Hair Extensions. Please read on to find out just why these products are so great!
START WITH SHAMPOO
Shampoos are a necessity to keep your hair clean and healthy – they aid in removing any product build-up and help to remove any minerals that stick to your hair. Give your hair extensions a deep cleanse and leave your hair feeling extra nourished. Shampoo should be used when washing your hair every few days – we love this Pearl Nourishing Argan Oil Shampoo from Beauty Works which is suitable for all of our hair extensions Milton Keynes, it's sulphate free for ultimate hair extension care and it's affordable at £12.00.
CONDITIONER
Conditioner, like shampoo, is a product that should be used regularly at every wash and provides nourishment and shine to your hair. Its benefits include it's repairing properties and the fact that it can detangle your hair. Conditioner should always be used after shampooing; it is recommended that it be applied generously from the mid-length to the ends of your hair. For the best results, it should be worked into the hair and left for 5-10 minutes before washing out.
Beauty Works conditioner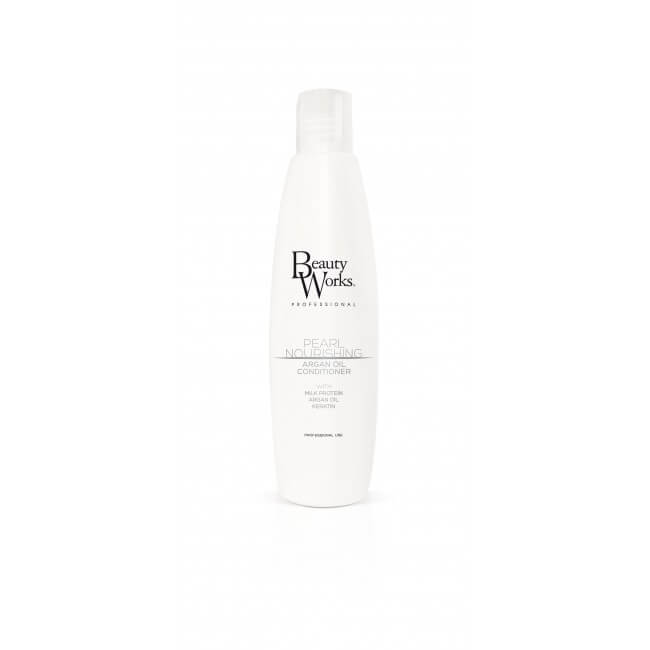 HAIR MASKS
The Beauty Works Argan oil mask conditioner that we sell can be used in order to help restructure and nourish your hair; It is an intense treatment and will leave your hair feeling revitalised and nourished due to the natural keratin in the product. Like any conditioner, it is recommended that contact with the roots of any hair extensions should be avoided and never apply conditioner or masks directly to the root as this can affect the extensions staying in place.
When using the argan oil mask, you should focus on mid-lengths to the ends of your hair, leave for 10-15 minutes then rinse thoroughly with warm water to ensure that it is all removed. It is strongly recommended to use a hair mask at least once a week, to protect your hair extensions, which are prone to becoming brittle and dry from heat exposure and styling.
ARGAN OIL HAIR SERUM
Argan Oil hair serum has a variety of benefits; it nourishes, repairs, rejuvenates, reconstructs damaged hair and gives ultimate shine. And it does all of this without weighing down your hair! One it's favoured benefits would be that it works to protect against heat, which means you have extra protection when using heat or styling tools on your hair. A small amount of serum can be added to your towel-dried hair before styling, or you can use a finishing product that will have your hair feeling nourished all day.
Beauty Works argan oil serum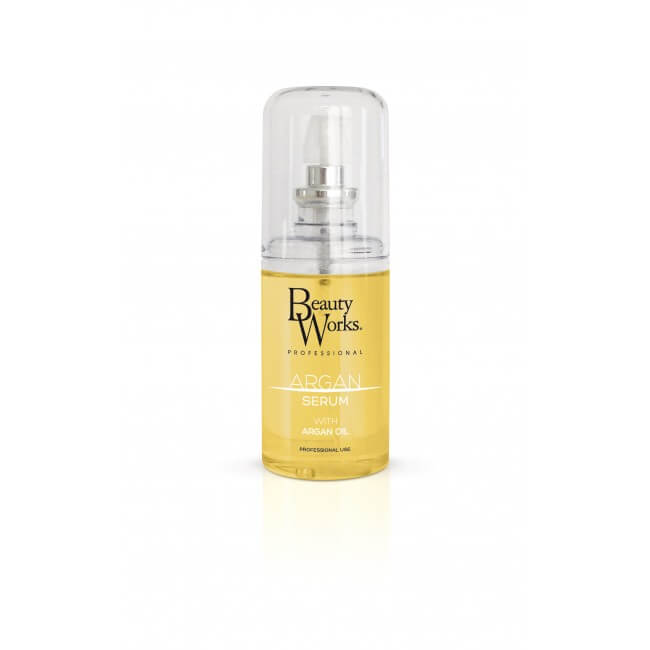 HEAT PROTECTION SPRAY
Heat protection spray works best when you are planning to use any heat appliances on your hair; it helps to protect and replenish and is an aftercare essential. Direct heat on your hair can be seriously damaging and can leave your hair feeling dry and brittle.
For the best results when using the heat protection spray, spray small amounts through the hair from mid-length to the ends of dry/damp hair. Make sure that you comb it through the hair and ensure an even coverage, then style your hair with your favourite heat tool as desired.
10-IN1 MIRACLE SPRAY
The beauty Works 10-in-1 Miracle Spray has an incredible 10 benefits when used. These benefits include; eliminating frizz, restoring shine, nourishing, replenishing oils, protecting from heat, detangling your hair, conditioning, help to prevent split ends, enhances natural body and the 10th and final benefit it helps repair dry, damaged hair. This is a recommended product to use on your hair extensions before you style to help them look fabulous.
There are two ways to use this product, simply add to wet hair before styling in order to detangle the hair, or you can apply a little amount to dry hair as a styling crème.
Beauty Works 10 in 1 miracle spray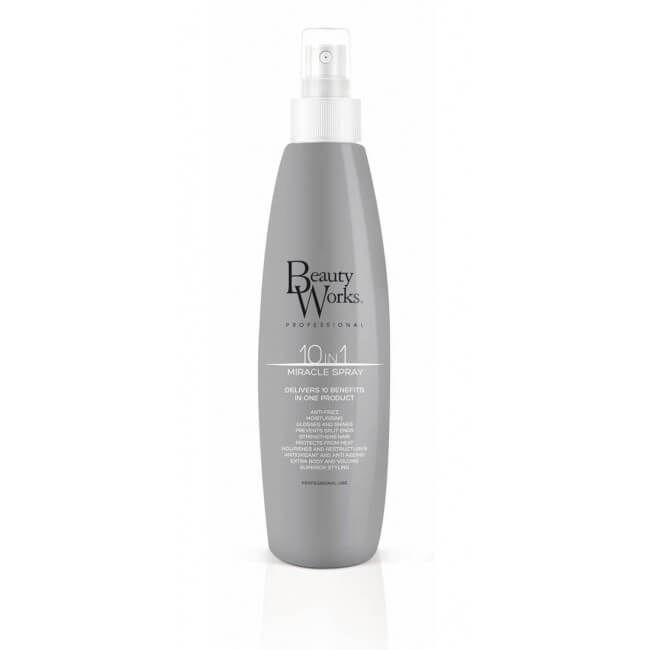 WAVEMAKER
The new Beauty Works WaveMaker product uses a formula that helps protect the hair from harmful effects of the sun, keeps it hydrated and also helps to keep your waves in all day long. The mist is lightweight, which adds texture to your hair and helps you to maintain the relaxed beach-hair look.
WHIPPED MOUSSE MASK
A new whipped mousse mask acts as a conditioner that you do don't have to wash out. The leave in cream helps to provide your hair with hydration by using products such as provitamin B-5, milk protein and vitamin E; this product will leave your hair extensions feeling restructured whilst also giving you softness and manageability, without weighing it down. A beautiful vanilla scent will also leave your hair smelling fresh and clean.
Beauty Works whipped mousse mask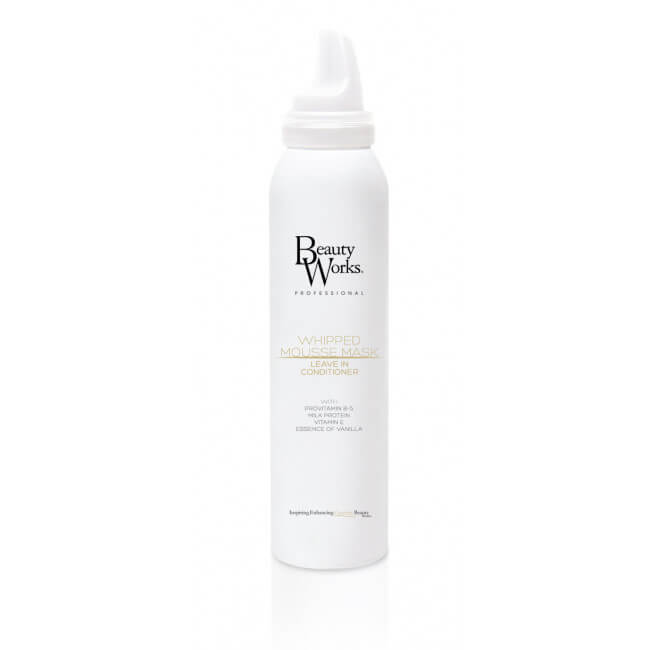 DRY FOAM SHAMPOO
Dry-foam shampoo means that you can instantly give your hair the refreshment it needs and make it look good between washes so that you don't have to wash your hair as often. It is ideal for travelling or transforming your style in between your blow-dries. With a lightweight formula, it will leave your hair feeling fresh and clean while working as a regular shampoo to remove grease and any product build-up.
For the best results use this product at the root of your hair in order to absorb any oil and boost the volume of your hair between washes.
DEEP CLEANSING CLARIFYING SHAMPOO
This new clarifying shampoo is designed to remove any stubborn product build-up from your hair. This includes any silicones, waxes, moisturisers or oils from any products that you might have used on your hair since the last wash. The deep cleansing clarifying shampoo will also help to remove any mineral deposits from hard water, chlorine and any other chemicals that stick to hair. For best results, the shampoo works best used prior to your hair extensions application.
Beauty Works deep cleansing clarifying shampoo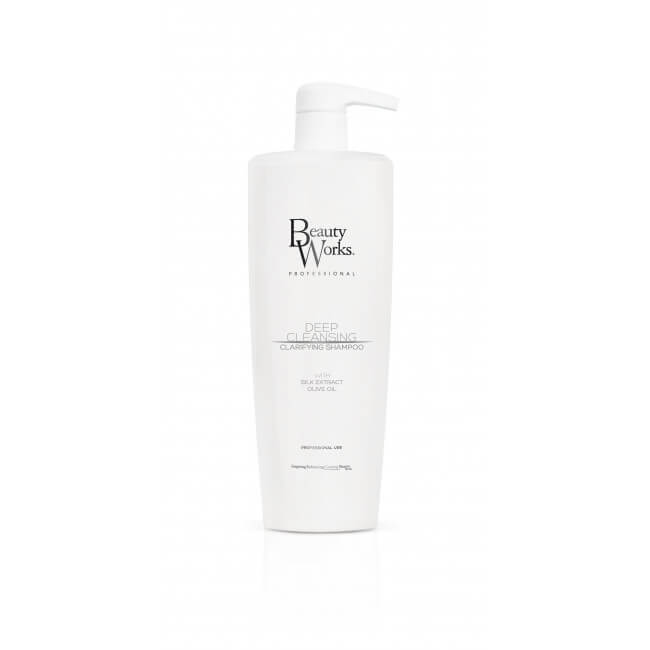 SUMMARY
So there you have some of the best products available to keep your hair in perfect shape, as mentioned in the article it's highly important that you use the correct aftercare to avoid damaging your hair extensions, and obviously ensuring they look their best and last as long as possible!
We hope that this article was helpful, if it was then why not share on social media?
All of these products are available on the Beauty Works website