More and more people are opting to go abroad each year, so it's important to know how the climates and environments of different countries can affect your Hair and Hair Extensions. In our new guide, we will give you tips on how you can take care of your Hair Extensions whilst you're abroad.
Hair Extensions are so easy to look after when you're on holiday – If you know what you're doing. Luckily you have us; we will help you keep your hair extensions looking healthy and beautiful before, during and after your holiday!
Wearing Hair Extensions during your holiday
To find out how you can take care of your beautiful 'Hair Extensions on Holiday', read on!
#1 Take Argan Oil suitable for Hair Extensions with you
We are kicking off our list with one of the most essential items you need with you when going on holiday: Hair Extensions Argan Oil.
Along with your clothes, shoes and underwear, don't forget to pack your Hair Extensions Argan Oil. Hair oils are amazing for retaining the moisture in your Hair Extensions, which is vital as you are being exposed to higher temperatures and other elements that suck the moisture out of hair, such as chlorine, salt water and the sun, so the oil will play a massive role in keeping your extensions touchably soft.
Here at Angel Hair Extensions we offer essential Beauty Works Argan oil specially designed for Hair Extensions. This will keep your hair extensions much softer for longer.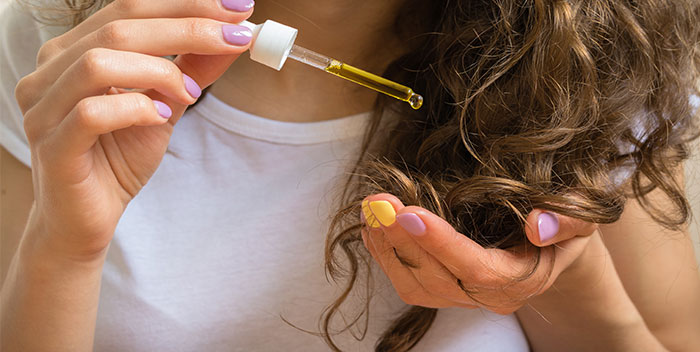 #2 Take aftercare products
After every installation, your Hair Extensionist should recommend certain aftercare products to allow you to properly take care of your Hair Extensions.
Here at Angel Hair Extensions, we always recommend our Beauty Works products for our Hair Extensions in Milton Keynes, to make it much more convenient for our clients! By taking your aftercare products with you, you don't have to risk using hair care products that might be detrimental to your Hair Extensions. Such as shampoos and conditioners that contain sulphate, which tend to be very drying and essentially sucks the life and moisture out of your Hair Extensions.
#3 Do not sleep with wet Hair Extensions
We have mentioned this tip a couple of times in previous articles, so it doesn't just apply when you are on holiday.
When on holiday it's tempting to just simply leave your hair wet after a swim and go to bed- we get it! But think about things in the long run. We highly recommend that you ensure your Hair Extensions are completely dry, then either pack it into a ponytail or secure it into a braid before going to bed.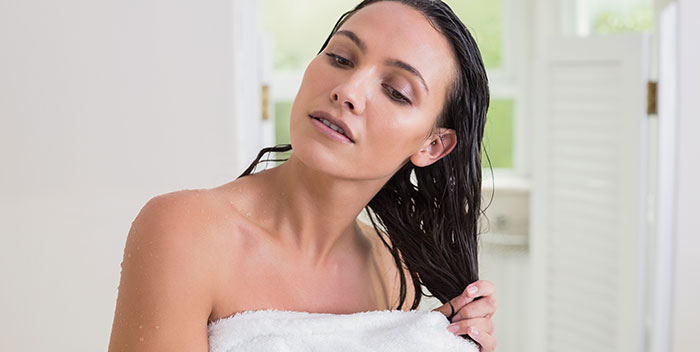 #4 Book for a maintenance appointment when you get back from Holiday
When you have returned from holiday, it's a good idea to you book and schedule a maintenance appointment with your hair extensionist.
At the appointment, your extensionist can see if your Hair Extensions have been damaged in any way, and they can fix it straight away, so you can have beautiful Hair Extensions that look as good as new!
If your Hair Extensions has suffered any damages from the sun, then your extensionist can recommend treatments or fix any loose bonds, and this will just generally make your Hair Extensions look much better.
#5 Avoid Sea Water and Chlorine
When on holiday, it's only natural that you want to swim in the clear blue waters, but for the sake of your Hair Extensions, try and avoid getting your hair in the water as much as possible!
Hair Extensions that are exposed to chlorine and sea water may become dry, tangled and may even begin to discolour, and that isn't a good look!
If you still want to swim and get your hair wet, then the best thing to do is to secure your hair in a manageable hairstyle, such as a braid to stop your hair from being tangled too much. Then wash and condition your hair straight after.
You could also consider wearing a swimming cap to try and stop your hair from getting too wet or affected by the water.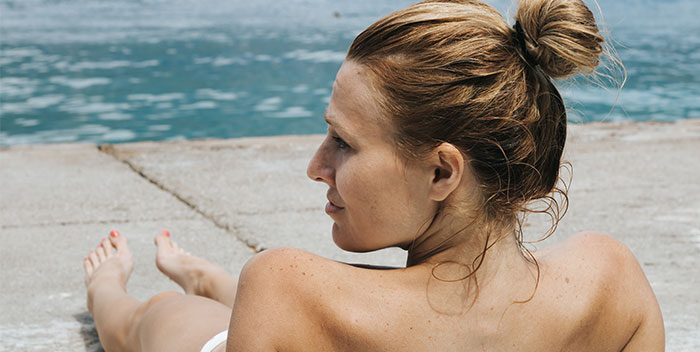 Quick Recap…
There are many things you should be keeping in mind when it comes to going on holiday with Hair Extensions. If you follow our guide you are guaranteed manageable and beautiful Hair Extensions even after your Holiday!