Hair extensions are great to give your hair volume and length and can give the person wearing them a huge confidence boost. There are many reasons people wear them, but the question is what are the best hair extensions types for your hair?
How Can I Find The Best Hair Extensions Types For My Hair?
Everyone's hair is a different thickness, length, style and colour and may not be suitable for certain types of extensions – you cannot change your genes, and you have to learn to work with what you've got. This is why there are so many different techniques of hair extensions – so that there is a method of extensions to suit almost every hair type.
Some people have hair that naturally produces oil faster than others making it greasy more frequently, whereas other people may have dry hair that they find hard to give a daily dose of moisture. Whatever your hair type, our hair extensions Northampton are suited for all different hair types and we can find something suited to your needs.
So what is the type of extensions that are perfect for you? What are the different types of hair extensions? If you want to find out, then keep reading!
LA Weave
The LA Weave is mainly suited to those who already have fairly long hair and without blunt ends, ensuring it blends completely with their natural hair.
It's also suited to people who are low maintenance with their hair – so if you roll out of bed and run out the door then this one for you! A hair weave such as the LA Weave requires less home maintenance than the other methods and is perfect for those who don't want to spend too much time on their hair. Obviously, with all hair extension methods, you do need to allow for, and take extra time when washing and styling the extensions as there is a lot more hair to manage!
LA Weaves are also low maintenance as they are only attached to two or three rows of your hair. Maintenance is required after roughly 6-8 weeks to get the LA weave removed and refitted using the same hair, which is why they are the one of the most favoured methods. The hair for the LA Weave can keep being re-used for up to 9 months!
Pre Bonded
Pre Bonded hair extensions are one of the most popular hair extensions methods, and involve attaching small keratin bonds on the end of hair extensions to your hair. These hair extensions in Milton Keynes are seen as one of the most effective for almost every hair type as they are able to blend in completely with your hair and are the most secure hair extension method. They are also great because keratin is a natural protein that is widely known as a hair growth stimulant, meaning not only can they be applied while causing no damage to your hair, but they also work to help your hair grow.
The great thing about Pre Bonded hair extensions is that most clients don't lose any hair extension bonds during the recommended 4 months wear (providing the correct aftercare is followed), and maintenance is not required with this method, so you simply come back in after 4 months to have them removed and a new set fitted if required.
Micro Rings
This method of hair extensions is applied with no glue or heat involved, jut small metal silicon lined rings. These are applied by gently threading the hair through a small ring, the tip is then inserted into the ring next to the natural hair, and the ring is then squeezed shut using hair pliers to hold the extension hair in place.
Micro Rings are probably not best suited for people whose hair is very fine or blonde and the rings could be visible, also for clients who's hair becomes greasy quickly, this can cause the rings to slip down and either fall out or become loose. Micro Ring extensions are best suited to those with medium to thick hair and darker hair colours.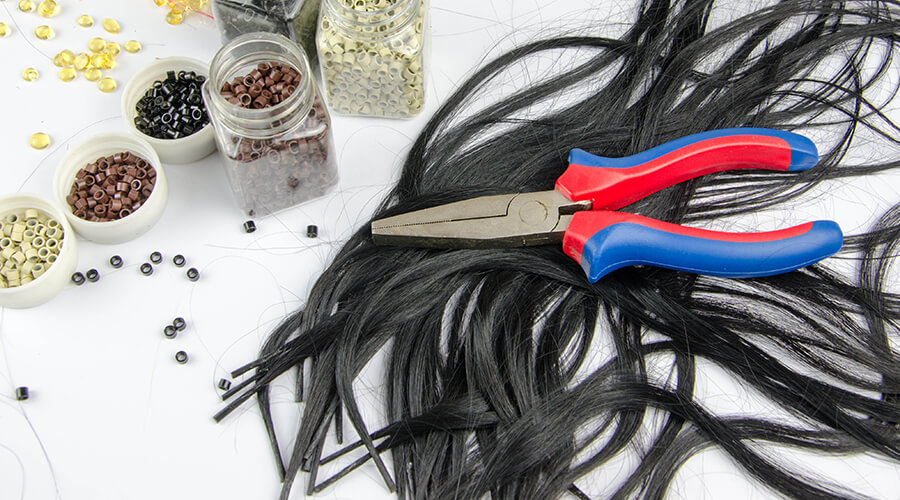 Nano Rings
Created in an experiment to find the best most invisible form of hair extensions, Nano Rings are very similar to micro rings, are made out of metal and are the smallest ring form of hair extensions. The application for Nano Rings is the same as Micro Rings however the rings are up to 90% smaller than average ring hair extensions for extra discreetness – this is around the same size as the tip of a ballpoint pen!
Nano Ring hair extensions are not suitable for every type of hair due to the size of the rings. On silky or oily hair the rings can slip very easily. A free consultation at our salon in Milton Keynes is always best to see if your hair is suitable for Nano Rings.
Micro Ring Wefts
Micro Ring Wefts are applied via an entire weft of hair that uses micro rings attached to your natural hair, which is then clamped shut for complete security and discretion.
This healthy hair extensions method includes no heat or glue and can stay in your hair for between 6-8 weeks making it an effective hair extension method for long term everyday wear, the hair can then be re-used just like the LA Weave and refitted after the 6-8 week period. Micro Ring Wefts were created to replicate the standard clip in hair extensions but with extra security and with the purpose of abolishing the chore of clipping them in every morning.
Tape
Tape hair extensions are a great new method and an alternative to all the methods previously mentioned. They are a cross between weft and bonded extensions as they are miniature wefts that are taped (glued) in a sandwich like a mechanism in order for a fast, efficient application. They integrate into the hairline at the direct root of your hair they are completely discrete with no visibility and also cause no damage to your hair.
The best things about tape hair extensions are that they lay completely flat in the hair and they are suitable for almost all hair types. Maintenance to have them all removed and refitted is recommended every 6 weeks. The medical grade high-end adhesive used for these extensions causes no damage to your natural hair. Every hair extension method we offer is non-damaging, although it is imperative that the aftercare advice is followed and the correct products are used, and removal must take place by an experienced professional – ideally the person who originally fitted the extensions.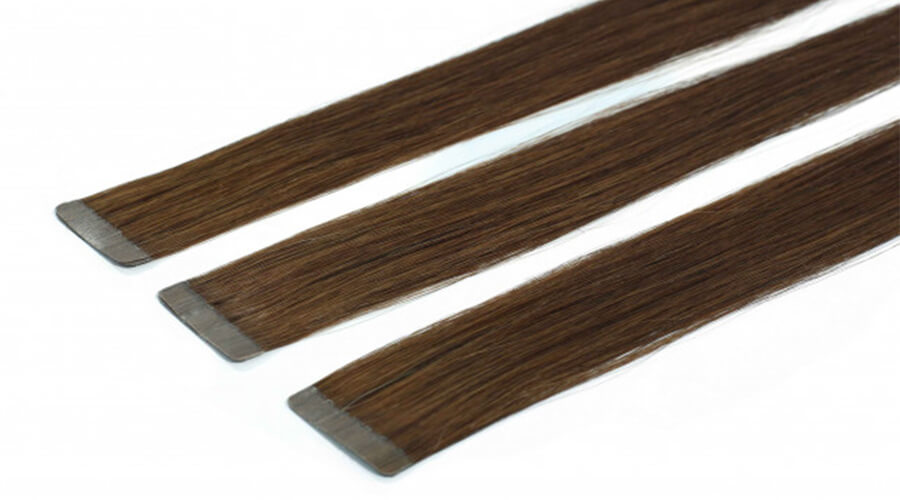 Image Credit Beauty Works
Summary
So as you can see, there are a variety of different hair extension methods, and some may be better for different types of hair than others. Certain extensions are better for shorter time periods, than others, which require less maintenance. If you are looking for hair extensions in Northampton but you are unsure of which method will suit your hair then please fill in our contact form to arrange to come in and see us for a free consultation!
We hope this article was informative, if you found that it was then why not share with your friends, family and someone you know who is looking for hair extensions!