It can be hard for us girls to achieve long luscious shiny locks consistently but there are a few DIY hair masks you can use at least once a week that will not only save you money but will also give you excellent results. Read on to find out how to make them and the best way of application.
How to make a DIY hair mask
There is a range of DIY hair masks you can make at home that will give you a range of benefits. The type of mask you choose to go for will be dependent on your hair type and the state of it, such as dry or oily.
The great thing about home hair treatments is that the products you need to make them, you can find in your cupboards or fridge, so there is no need to prep beforehand.
Hydrating mask
If you suffer from dry scalp or your hair is looking like it needs a little revamp we recommend looking hydrating hair masks. This is because you will need to put the oil back in where it may be lacking through excessive washing or bleaching.
A recipe we often like to follow is:
4 tablespoons olive oil
2 tablespoons honey
Mix both the oil and honey together and heat in the microwave for 20 seconds. We would like to mention that when you heat to ensure you do it in a microwave-safe cup or bowl. Check how hot it is before applying to your hair. If you have micro ring hair extensions in Milton Keynes or Keratin bonded extensions, we recommend only applying it to the ends of your extensions – if you apply to close to your scalp you run the risk of the micro rings or bonds slipping out the hair. Once applied either wrap your hair in a head towel or in a shower cap from DillyDayDream. You will then want to wash it out and style as you normally would.
Oily hair mask
For those of you that suffer from an oily scalp, certain types of extensions are often out the question as you need to wash your hair often and may experience slipping clips or rings. One way of prepping your hair is to use an oily hair mask that strips the hair of any excess oils.
You will need:
5 tablespoons plain yogurt
1 tablespoons lemon juice
1 tablespoons baking soda
To apply to your hair, we recommend using a brush or comb, to get it right into the roots. Mix all the products together and comb into the roots. You can leave this on for however long you wish but from trying it out we suggest 30 minutes and then rinse, do not use soap nor conditioner after using this hair mask. If you find that your hair is a bit more oily, then you can use this mask twice a week. Again, please do not apply if you have bonded or micro ring extensions in as this will cause your extensions to slip.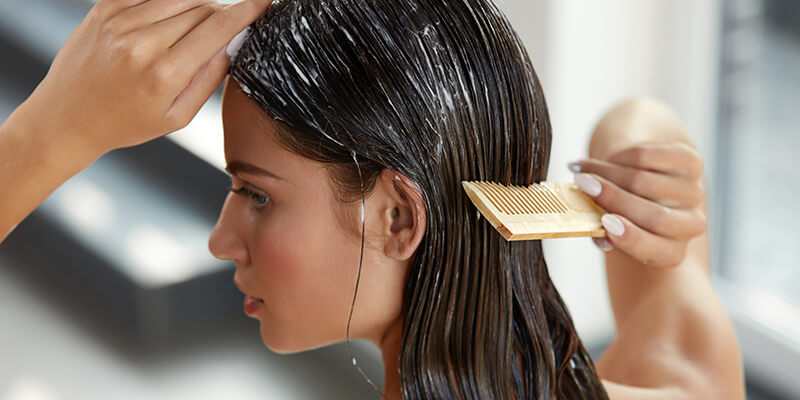 Egg masks
Eggs are great for your health all year round as they pack a significant amount of protein as well as other vitamins such as vitamin A, B, D, B12, Calcium, Potassium and fatty acids. You may be thinking why on earth would we recommend putting egg in your hair, well the vitamins along with the protein promote healthy hair growth, which will hopefully make your hair grow at a faster rate.
Ingredients you will need:
1 large egg, if you have long locks we recommend using 2
80z of milk
1 tablespoons lemon juice
2 teaspoons olive oil
To apply, you will want to whisk the whole mixture of ingredients together and rub into the scalp and end of your hair. Massage for about 3 to 5 minutes and sit with the mask in your hair for 15. This will allow the ingredients to successfully penetrate your scalp. Due to this mask having oil in we would normally recommend that you do this before you have your pre bonded hair extensions in Bedford fitted, or you go in for a refit once they have grown out.
When it comes to washing this mask out your hair, you must ensure you rinse with cold water. Due to the egg mixture if you use warm water you may increase the risk of cooking the egg in your hair – let's face it no ones scrambled egg hair! After using this mask, you will want to wash your hair as you usually would.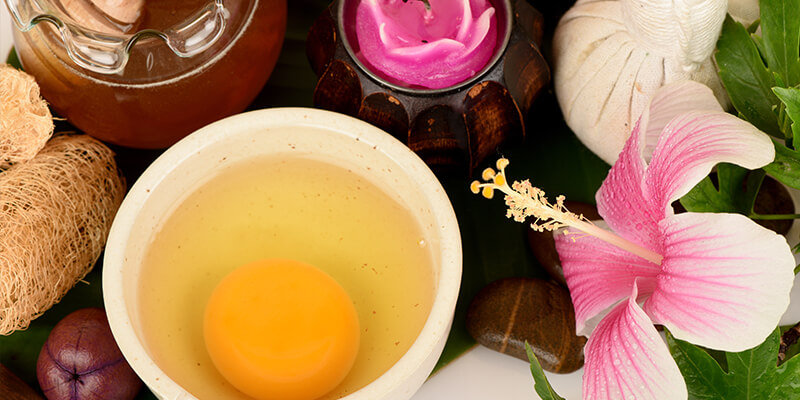 Avocado masks
Avocados are a great nutritional food type that is not only great for your body but also for your hair. It is one of the main masks we tend to use to give our hair a little bit of life and shine. Avocado has both hydrating and nourishing properties; it is also a great mask for those of you who may experience a little bit of frizz from time to time.
You will need:
1 ripe avocado
1 tablespoon of almond oil
2oz milk
This may be a tricky task to achieve by hand, so we recommend if you have one to use a blender, you will need to blend the avocado until smooth, add the milk and oil and apply to your hair with a colour tint brush, if you don't have one you can get them from eSalon. Using a hair tint brush allows you to get the roots entirely. Once applied you will want to sit with the hair in a shower cap for around 15 minutes for the hair to be saturated. Then rinse well with warm water and style, you will notice a dramatic change in how smooth and soft your hair feels.
Summary
Here at Angel Hair Extensions, we love using homemade masks from time to time; we understand that good quality shop bought masks can be expensive, and most of the time you can make very similar adaptions of them at home. Avocado and hydrating masks are great for those you that needs an extra little bit of help with dry or broken hair. If you are unsure if you should be using this type of hair mask we recommend it for those of your that have bleached your hair or style your hair with hot tools on a regular basis. If your one of those poeple that find your hair gets to certain point and stops growing we recommend using the egg mask for that extra little bit of help.
We hope this article was helpful to you and would love to know how you got on trying these masks!