Every girl loves the Victoria Secret Runway, the gorgeous hair and the even more stunning outfits. A lot of time and effort goes into looking that gorgeous; however, you can still achieve this look at home. Whether you are going for your Christmas party, a night out or simply want to look a little bit extra, then Victoria Secret curls are the perfect look for you.
Check out these gorgeous victoria secret curls
Adriana Lima is one of the most stunning women in the world, as well as being one of the longest-running Victoria Secret models. She recently took her last ever catwalk as an angel and looked fabulous while she did it. Her gorgeous thick dark hair sits perfectly against her tanned skin providing the perfect length and volume for the soft, bouncy curls often associated with the Victoria Secret catwalk.
Sara Sampaio is also a Portuguese goddess, her thick dark hair already has a significant amount of shine giving her the perfect locks for the catwalk. While her hair is shiny, she will occasionally need a little-added volume when it comes to her hair. So, is no shock but when it comes to the catwalk, her stylist ensures her hair is perfectly voluminous for the big event.
Jasmine Tooke always has flawless skin, but when it comes to her hair one of her biggest hair care secrets, is she keeps morrocon oil with her all of the time due to the hot styling tools used on her hair so frequently. She will also pop it in her hair before she goes to bed to give her locks some nourishing love before being on set the next day.
What tools I will need?
There are a couple of essential products and tools you may want to look at before you go ahead with styling your hair. Getting the right products and tools will help you achieve the style easier and could also save you time.
Hairdryers
Before you start make sure you have a good quality hairdryer, a couple of our favourite are the Dyson Supersonic Hair; if you have the budget, this is a must-have hair product in any girls hair routine. The reason we love this so much is the lack of heat it uses to give your hair the additional volume. If your hair is wet, it can also dry your hair much quicker than any other hair dryer. The hairdryer also comes with a range of nozzles, which are incredibly beneficial when styling your hair. It also has three precise speeds, so if you have keratin hair extensions in Ampthill it means you can choose a lower speed, so your hair does not become knotted while drying.
Another fantastic hair dryer we usually recommend to a range of our clients is the Remmington Keratin Protect Dryer, it has a keratin and almond oil infused ceramic coated grill, which means your hair is left shiny and smooth after drying. It is also fantastic for extensions, as they often lack the moisture your natural hair receives from the oils created in the scalp.
Alternatively, if you are looking for a hairdryer with power but is lightweight we highly recommend going for the Lee Stafford Coco Loco Blow & Go Nuts Dryer. When it comes to your hair extensions, it can take a little longer than usual to dry your gorgeous locks, so having a heavy tool can sometimes be a pain. The Lee Stafford dryer is not only light but is also beautiful to look at and is not bulky in any way.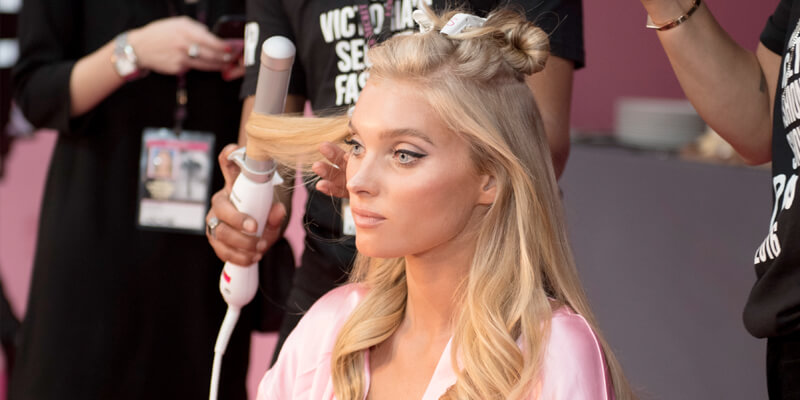 Photo Credit to Bridal Pulse
Curlers
If you are willing to spend the money on a good pair of curlers, then our first recommendation would be to look at the Whirl Trio Convertible Styling Wand, it comes with three different sized wands which you can change depending on the style you are going for. The great thing about purchasing a tool with interchangeable attachments, often means you are set up for a couple of years without having to buy any additional styling tools. The Whirl Trio Convertible Styling Wand also comes in a gorgeous white colour with rose gold detail.
Alternatively, if you want a more affordable option we love the BaByliss Soft Waves Wand for those big curls, it's super easy to use and also lightweight. It has five different heat setting so depending on the style you are going for you may want to make it slightly hotter. It also means you are more in control of how much heat you put on your hair.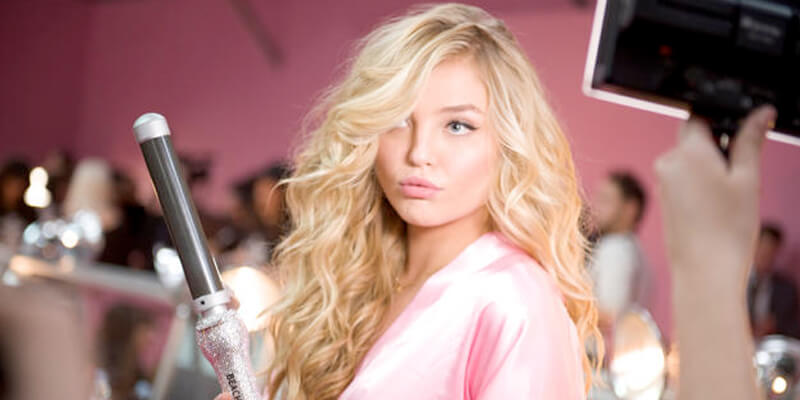 Photo Credit to Beachwaver
How to prepare your hair
Getting the Victoria Secret curl works best when your hair is clean, so we recommend giving it a good wash. Make sure to put a good amount of conditioner into the ends of your hair to ensure they are fully nourished. When it comes to drying the hair, we always recommend leaving it a little while before you dry your hair. Brush through the hair starting at the bottom and making your way up, the reason we say to do it this way is while you work your way up from the bottom the knots in your hair will naturally start to drop making it much easier for you to brush out the hair.
Once your hair is damp – rather than wet – apply a hair oil, the Redken All Soft Argan-6 Oil works wonders on extensions or any hair type for that matter. As you will be applying heat to your hair, you may also want to apply a good quality heat protection spray such as Toni and Guy Heat Protection Mist.
You will then want to start blow drying your hair we recommend working on the bottom again, once the bottom of your hair is dry start at the roots. To give you the best possible volume we recommend tipping your head upside down as it will often mean the hair follicle is raised and stands on edge.
Then you will choose your parting; we recommend going with what feels comfortable. Alternatively, a centre part always works well with this style as it gives you an even amount of volume on either side of your head.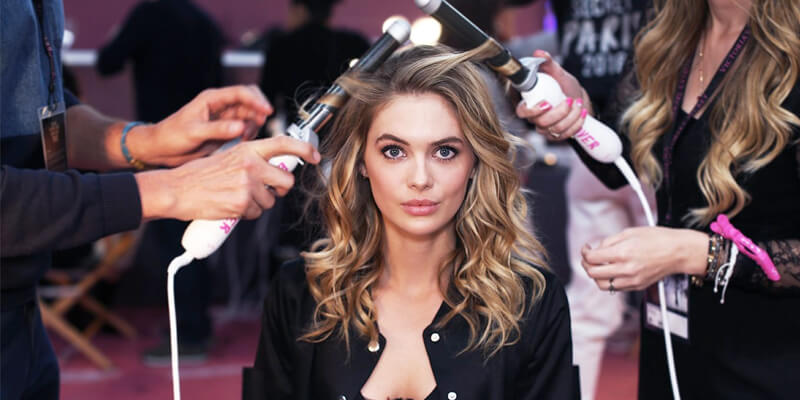 Photo Credit to Live The Glamour
Choosing the right barrel
As you may notice many of the Victoria Secret models have big flowing curls, so you may want to opt for a larger barrel on your curling tool. If you find that your hair drops fairly quickly, then you may initially want to go for a wand with a smaller barrel.
Curling the hair
When it comes to curling your hair, you may want to think about making small sections. It makes it far easier to get a more defined curl when you choose to section off the hair. You will then want to take an inch width worth of hair and wrap it around the curler. We recommend making the curl away from your face for the ultimate Victoria Secret style. When you get to the top section of your hair, we recommend not going from the root, but instead, you should go from about a third of the way down, you will notice that the Victoria Secret models tend to have their hair sitting smooth rather than curly on top of their heads. It also helps give your hair a more glamorous yet sultry feel. Once you have curled them, let them sit and cool before you do anything with them, this also gives them the opportunity to hold.
Rather than brushing through the curls you will want to run your fingers through them, this prevents the curls from dropping so quickly and keeps them in place.
Products to use after you have created the perfect hair
So, you may think you're ready to go out and face the world with your gorgeous curled locks. But, you're not just yet as there are a few more steps you will want to take before you head out.
Many of the Victoria Secret models tend to have their hair super shiny, one of the best ways to achieve this is by using a shine spray. There are so many different shine sprays out there on the market which will give you that added touch of shine, however, we do recommend not going to heavy on it especially if you have nano ring hair extensions in Dunstable, as the oil in the shine spray can cause your extensions to slip slightly. Give your hair a gentle spritz and it should be more than enough to give you the shine you are after.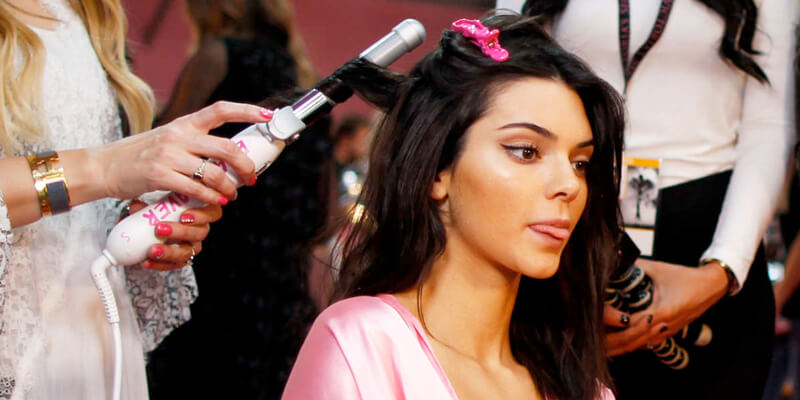 Photo Credit to New York Magazine
Hairspray
People often tend to shy away from hairspray because it leaves their hair crispy, but we would just argue you're using the wrong products. There are a number of hairsprays out there which give you the effective hold you need without that dreaded dry crispy hair. Some of our favourite hairsprays are OUAI Soft Hair Spray, GHD Final Fix Hairspray and Moroccanoil Luminous Hairspray.
The Victoria Secret curls
Now you have mastered the Victoria Secret curl, you can now walk through life as if you are a Victoria Secret Angel. We hope you feel as glamorous as you look and enjoy your event, night out or a day looking fab. Make sure to tag us in any of your pictures, we love to see how every one of you gets on styling your hair!