If you're new to the world of hair extensions, then you're most likely a little wary due to the bad reputation they've built up in the past. While back in the day, hair extensions were known for causing damage, we can absolutely promise you that this is no longer the case. Gone are the days of matted extensions with clips sticking through your ponytail and uneven colour tones, hair extensions are now capable of blending seamlessly into your natural hair – even your besties won't be able to tell you've got them in!
So, if you're considering investing in hair extensions but looking for that little extra guidance, then, girl, we've got you! We've put together a full guide on everything you need to know about hair extensions, so grab a coffee and start reading!
A Beginners Guide To Everything You Need To Know About Hair Extensions
If you've ever wondered how Kylie Jenner goes from her platinum blonde bob to her signature jet black locks overnight, then you've come to the right place; its all through the art of hair extensions. Even the queen of the slick pony, Ariana Grande, has confessed that she is a lover of hair extensions. Unlike in the past, it's now super easy to transform your style through hair extensions while causing no damage to your natural look. Through research and enlisting the help of a professional hair extension stylist, not only will your hair stay healthy naturally, but you'll look glam in the meantime!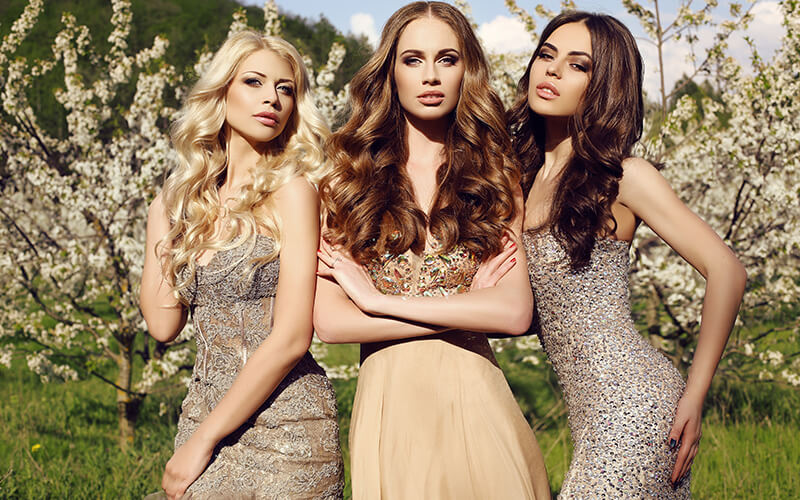 Types Of Hair Extensions:
Before going ahead with making any bookings for your hair extension consultation, it's firstly important to spend time understanding the different types available to you. Hair extensions are more popular than ever which means, lucky for us girls, you're not just limited to one type; there are now five variations, all of which are based on how the extensions are fixed to your roots.
LA Weave
The LA Weave is one of the most popular and well-known types of hair extensions as they're great for almost all hair types and are super easy to maintain. When fitting an LA Weave, weft hair extensions are sewn into small sections of your hair onto a row of micro rings. As an LA Weave fits completely flat to the head and involves no braiding, they're virtually invisible – perfect if you adore an up-do!
Micro Rings
During a Micro Ring fitting, small copper micro rings are clamped over tiny sections of hair to keep the extensions securely in place. There's no glue, heat, sewing or braiding involved when fitting Micro Rings and the copper rings are fitted with a silicone lining to keep your hair protected. Because of the rings used, Micro Rings are best suited to those with thicker, darker hair as it means they'll be easier to camouflage.
Nano Rings
Nano Rings are super similar to Micro Rings, but the rings are just a lot smaller which makes them able to be disguised even in thin, blonde hair. The application process is the same, and again, no form of heat, glue, sewing or braiding is involved. Nano Rings can also be applied higher up towards the scalp, which makes them even better for lighter hair.
Pre Bonded
If you're happy to give your hair a little extra TLC, then Pre Bonded Extensions would be ideal for you. Extensions are applied to the hair using a keratin bond, which when heated up using a heat connector, will seal the extensions onto the natural hair. As the keratin bonds are very small, Pre Bonded extensions are perfect for all hair types, however, will need to be removed and replaced every four months or so.
Tape In
Last, but not least, are Tape In Extensions. Using a flat polyurethane weft strip, extensions are fitted directly to the root with a pre-taped hairpiece in a sandwich-like formation. With many years of experience providing tape-in hair extensions in Harpenden, we've grown to learn the importance of picking the correct tape extension type. It's essential when debating where to get tape-in extensions fitted, that you take a look at the glue they use. Typical tape glue only lasts around 2-3 weeks, whereas specialist medical grade adhesive lasts up to 8 weeks.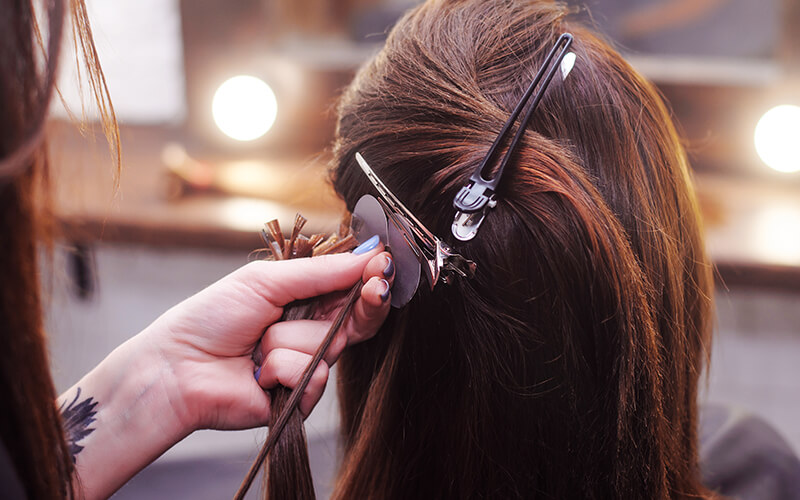 Reasons To Get Hair Extensions:
Whether you're experiencing thinning of the hair or simply want a boost in volume, everyone is the perfect candidate for hair extensions; they can completely transform your look and give you a well-deserved boost in confidence.
Here's just some of the many reasons why we've fallen in love with hair extensions:
Promote Healthy Hair Growth
Although it may come at a surprise, hair extensions are perfect for helping you to grow the healthy locks of your dreams – and it's all down to your haircare routine. When you have extensions fitted, it is more than likely that you will pay more attention to taking care of both your hair and scalp. Your stylist would have recommended various aftercare tips such as regular brushing and using the recommended high-quality products. The extra TLC your hair will receive will begin to positively impact its overall growth, meaning you'll notice a difference quicker!
Change Of Style
We've all gone through the stage of being bored with our hair. No matter how many different hairstyles you try out or the cute accessories you add, it just isn't enough! Hair extensions are perfect if you're looking to switch up your style without bleaching your hair or putting it through a load of strain. If you're using extensions to go from super short hair to long, you'll have plenty of gorgeous hairstyles to experiment with. We love Marie Claire's guide to the best long hairstyles for 2019!
Suffering From Hair Loss or Thinning
Hair loss or thinning is incredibly common amongst women and can cause a huge knock in confidence, whether it may be due to a medical condition or merely age. However, thanks to the magic of hair extensions, you don't have to live with it! Even the most fragile of natural hair can be given a boost using gentle extensions such as tape-in or keratin pre-bonded hair extensions. We have provided many clients who suffer from hair loss or thinning with keratin hair extensions in Ampthill and surrounding areas, helping to promote healthy growth.
A Special Occasion
There are no rules in regards to how long you keep your hair extensions in for; they don't necessarily have to be a long-term investment. Many people opt for getting hair extensions for a limited time to feel extra glam for a special occasion. Whether you're getting married or jetting off on a long holiday, hair extensions are perfect for adding extra body and length when you're hoping for a gorgeous one-off hair transformation!
Additional Length and Volume
If you're feeling the ultimate hair cut regret or are fed up of limp, lifeless locks, hair extensions are ideal for giving you instant length and volume. There's no waiting about for your hair to grow or the need to spend forever backcombing, in just a few hours, you'll walk out of the salon with a full head of Rapunzel-style hair.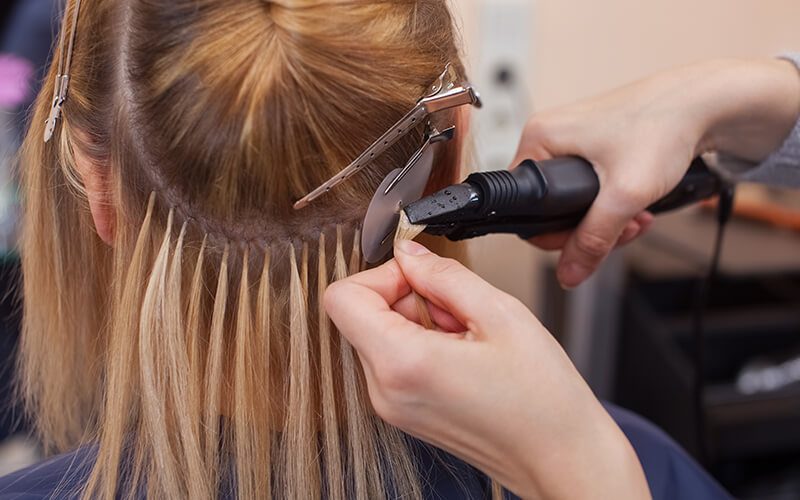 The Fitting Process:
Your chosen hair extension technician needs time to work their magic, so keep in mind that you'll probably be in the salon for a fair few hours for the initial fitting. If you're unsure on what to expect when getting hair extensions for the first time, then we've put together a quick timeline on what awaits you.
Initial Consultation
Never go ahead with getting your hair extensions fitted without an initial consultation. During your meeting, it'll not only give you a chance to get to know your technician and the quality of their work, but you'll also get the opportunity to discuss your dream results. The average consultation only takes around 15 minutes meaning you'll have plenty of time to pop in on your lunch break or on the way home from work. Your technician will examine your hair to recommend the best type of extensions to fit your requirements, along with beginning to colour match extensions to ensure that they blend seamlessly into your natural colour.
Preparing Your Hair
Great news if you have a super busy schedule, there's not much that you need to do to prepare your hair for extensions. To make sure that the extensions can fit securely to your hair, you need to try and make sure that there is as little oil on your scalp and in your cuticles are possible. On the day of your fitting, make sure that your hair is freshly washed and straightened. To maximise results, aim to use deep cleansing products – TRESemmé and Schwarzkopf have great cleansing shampoos we suggest giving a go!
Hair Extension Fitting Appointment
As you would have discussed your requirements during your consultation and your technician would have prepared your extensions ahead of time, all that's left to do on your fittings appointment is sit back, relax and watch your transformation unfold! Depending on the type of the extensions you opt for, fitting appointments can take up to four hours, but your technician would have let you know beforehand.
Maintenance Appointment
If you're hoping to keep your hair extensions in on a long-term basis, then we can't stress enough the importance of booking in and attending your maintenance appointment. Below is a rough timescale of how often you'll need a maintenance appointment depending on what extension type you have:
LA Weave – Every 6-8 weeks
Micro Ring – Every 6-8 weeks
Nano Rings – Every 2-3 months
Pre Bonded – Every 3-4 months
Tape In – Every 6-8 weeks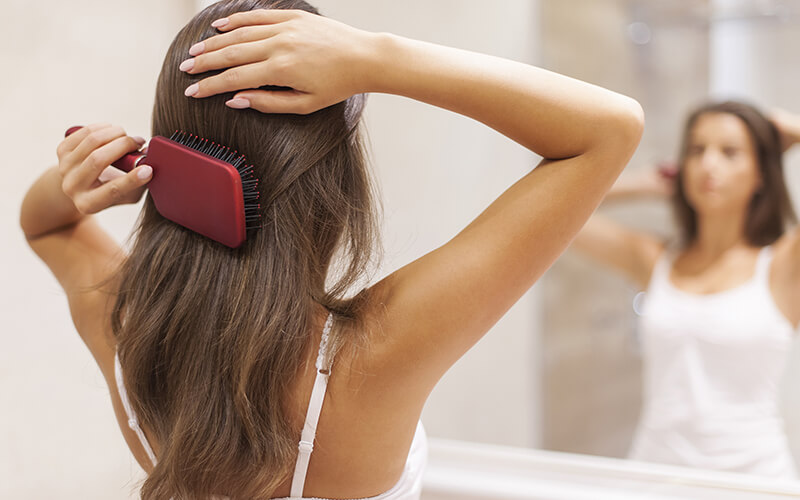 Caring For Hair Extensions:
To keep your hair extensions in good condition and make sure that they last their lifespan, you'll need to make sure that you spend time giving your hair just that little extra TLC. If you're yet to have extensions, then you're probably thinking "how am I going to find the time for this?!" but don't worry, all you'll need to do is make a few slight lifestyle changes, including the following:
Avoid Conditioning The Root
There's nothing wrong to treating yourself to a luxury conditioner or hair mask to keep your locks silky smooth, but, stick to applying only on the mide-leghts and ends. Conditioning your roots run the risk of causing your extensions to slip or come loose, meaning they won't last as long as you'd hoped.
Brush Gently
Seeing as your extensions are attached from the roots, tugging and pulling while brushing will start to damage your natural hair, along with pulling out your extensions. When brushing extensions, gently start from the ends and work your way up. While it may take a little extra time, we promise it's worth it for both your sake and your extensions! Soft hairbrushes perfect for extensions can be ordered online from The Beauty Works – we adore the iridescent shell-shaped brush!
Never Sleep With Wet Hair
When all you can think about is snuggling up in bed with your favourite Netflix series after a long day, drying your hair can seem like such a chore. However, don't be tempted to go to bed with wet, or even damp, hair. Tossing and turning in the night with wet hair is the prime culprit for causing tangling and matting making it so hard to brush out the following morning. Why not treat yourself to a new hairdryer that'll make the chore 10x quicker? – Expert Reviews have a helpful guide on the best hairdryers of 2019!
Use Heat Protection
Just like your natural hair, you're free to use straighteners, curlers and rollers on your extensions without causing damage, as long as you use heat protection. Always make sure that you apply a spray or serum to your extensions before applying any heat to your luscious locks. We suggest beginning your search for a heat protectant with Moroccan Oil and Goldiloxs!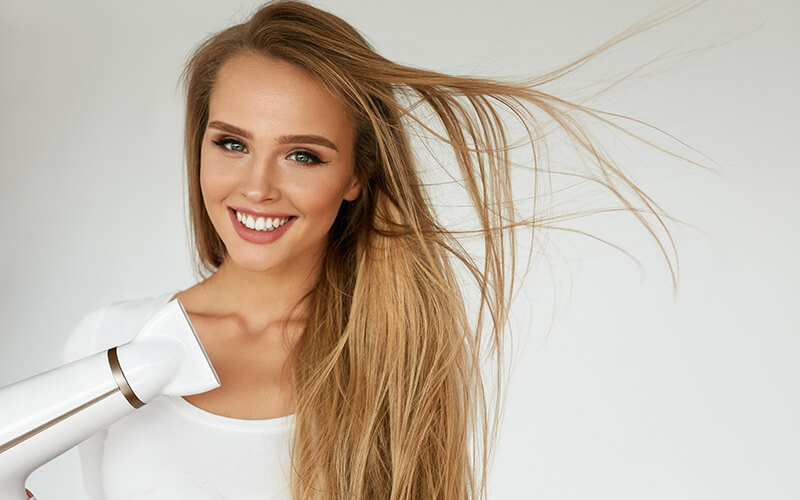 Transform Your Locks With Hair Extensions!
So, you've now been transformed from a hair extension novice to complete expert and feel ready to get yourself booked in! We hope our guide has made you fall in love with hair extensions just as much as we have, if so, why not share with your girl gang on social media?