Whether you dream of Rapunzel-inspired length or voluminous locks to swoon over, hair extensions solve all manner of hair-related woes. With our favourite celebs continuing to rock extensions, there are now more products than ever perfect for maintaining silky smooth locks from the comfort of your home. Every hair routine begins with a trusted shampoo and conditioner, which are able to keep your hair fresh without causing any damage or drying out extensions.
If you're new to the world of hair extensions (girl, you're never going to look back) or feel like treating yourself to some gorgeous new products, then you've come to the right place! We have devised the ultimate guide to the best shampoos and conditioners for hair extensions, perfect for keeping your locks looking flawless.
What Is The Best Shampoo And Conditioner For Hair Extensions?
Hair extensions are an investment, which means that they need to be cared for as one of your most prized possessions. Taking time to give your hair just that little TLC will not only keep them looking 10/10 but also reassure the health of your natural hair. From carefully detangling to rehydrating with a mask, you will most definitely be rewarded with the ultimate hair-envy when taking time to care for your locks.
When it comes to washing your extensions, treat them as if they were your natural hair. Technically speaking, you can wash your extensions just as you would do so normally, but just like natural hair, washing too frequently will cause damage. If washing them too often the extensions, along with your natural hair, will become dry and brittle; the same concept applies to overuse of heated styling tools. So, perhaps consider easing out of the everyday washing routine and try to stick to 1 to 2  times a week. While you may feel like a greasy mess for the first few weeks, your hair will get used to it, and we promise that it'll be worth it!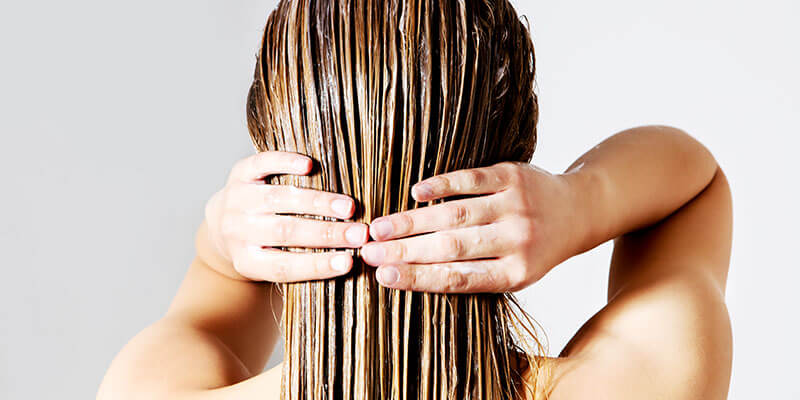 Top 5 Hair Extension Friendly Shampoos
Tracking down the right shampoo for your hair and extensions will take a little trial and error. A shampoo you may adore might be a huge no-go for your bestie – everyone is different as is every head of hair. However, there are a few qualities that we recommend keeping an eye out for.
The first are sulphates. While sulphates are in many different hair products, that are, in fact, your hairs worst enemy. They contain salts and only have one purpose, to make products foam. Due to the high level of salt, sulphates strip your hair of its natural oils, making it incredibly dehydrated. So, when searching for shampoo, go for those that are sulphate-free – and your hair will thank you for it!
Next is quality. We all love a bargain, but in some cases, it does pay to invest a little more into high-end products. If you want your hair extensions to stay in gorgeous condition, then opt for reputable brands. They do not necessarily have to be products worthy of the shelves in Selfridges, but they do need to include quality ingredients.
Now you're prepped on what to look out for in shampoos, let's delve into those that have won the top spots!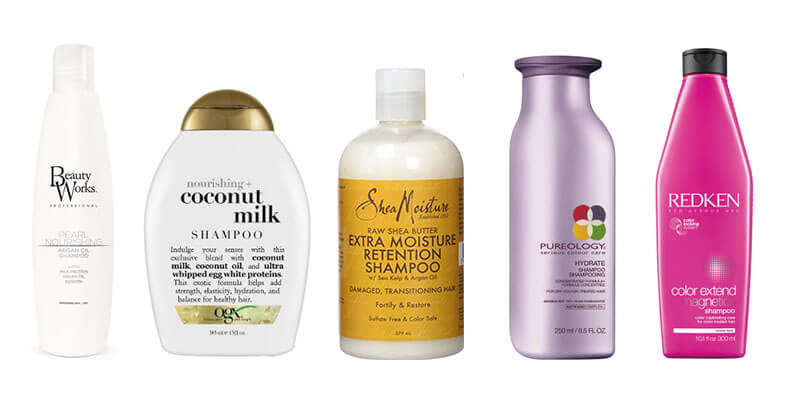 Beauty Works Pearl Nourishing Argan Oil Shampoo
As trained technicians in Beauty Works in Milton Keynes, we can confirm that the brand really is one of the best. Even the most famous stars from the Kardashians to Nicole Scherzinger adore Beauty Works, so of course, we had to include their brand first.
The Pearl Nourishing Argan Oil Shampoo most definitely lives up to its name, leaving your hair with a stunning pearly shine. Its ingredients include not only Argan Oil, but also milk protein and keratin, which work to clean the hair gently. When massaged into the scalp, the Beauty Works staple piece removes impurities in the hair, along with excess oil.
Buy yours directly from Angel Hair Extensions here or from Amazon here.
OGX Shampoo Nourishing Coconut Milk Shampoo
The OGX Shampoo Nourishing Coconut Milk features a range of unique ingredients, including whipped egg protein, coconut milk and coconut oils. Together, these not only nourish the hair but also strengthen from the root. The shampoo is known for restoring elasticity, which lowers the likelihood of brittleness and split ends, again, strengthening your extensions. And even better, the shampoo comes alongside a fresh scent which sticks around after washing.
You can buy this product from Amazon here.
Shea Moisture Raw Shea Retention Shampoo
If you're looking for an organic shampoo that contains all-natural ingredients, then the Shea Moisture Raw Shea Retention Shampoo is perfect! Including argan oil, organic raw shea butter, avocado oil and many more, this product provides ultimate moisture to the scalp and hair.
Sticking with the natural theme, the Shea Moisture shampoo is completely free from sulfates and parabens. This means that, even after frequent washing, your hair will not become dry and brittle. More information on sulfates and parabens can be found on Shampoo Tree.
Pureology Hydrate Shampoo
Pureology is the leading colour care brand meaning that their products are ideal if you have both extensions and coloured hair. Their carefully designed products are focused on retaining colour vibrancy while restoring moisture, keeping your locks super healthy.
The Pureology Hydrate Shampoo, in particular, is designed using "Micro-Emulsion Technology" which deeply hydrates the follicles, rejuvenating even the dryest of hair. It contains a number of protein-based ingredients such as oat, wheat and soy; all of which help towards rebuilding damaged hair and keeping it strong in the future.
Redken Colour Extend Magnetics Shampoo
There is nothing better than a fresh wash and blowdry from your favourite salon. But, what if we told you that you could have this feeling from the comfort of your home?! The Redken Colour Extend Magnetics Shampoo boasts the ability to give you a 'salon vibrancy' after every wash. And even better, a 300ml bottle costs just £15!
The Colour Extend Magnetics range contains charge-attract complex amino ions, which work to create a protective layer over each follicle, sealing in all colour and moisture. Other active ingredients include amino acids which replenish hair and protein to boost strength.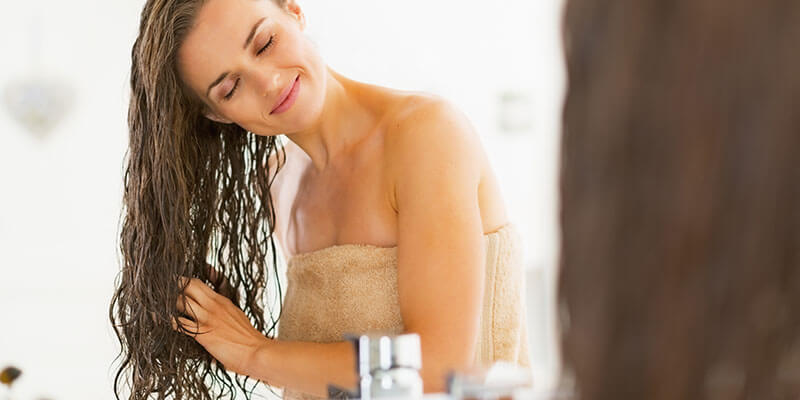 Top 5 Conditioners For Silky Extensions
Along with any beauty or haircare product, unfortunately, comes a list of potentially damaging ingredients that you must aim to avoid. While you may feel as if you are spending hours reading through components, it pays to be picky. Keeping an eye out for the ingredients that you put on your hair and scalp will increase how long your extensions will serve you.
When searching through products, steer clear of those that contain isopropyl alcohol. While isopropyl alcohol is only featured in some conditioners, it is known for stripping the oils from your hair. The chemical is so strong that it is also used in antifreeze, wood finish and shellac! Along with isopropyl alcohol, you should also avoid Behentrimonium Chloride (we know, this part sounds like a science lesson!). Again, although Behentrimonium Chloride is rarely used, it can irritate the skin and eyes.
So, enough with the complicated ingredients, let's move on to the best-rated conditions that your hair extensions will love!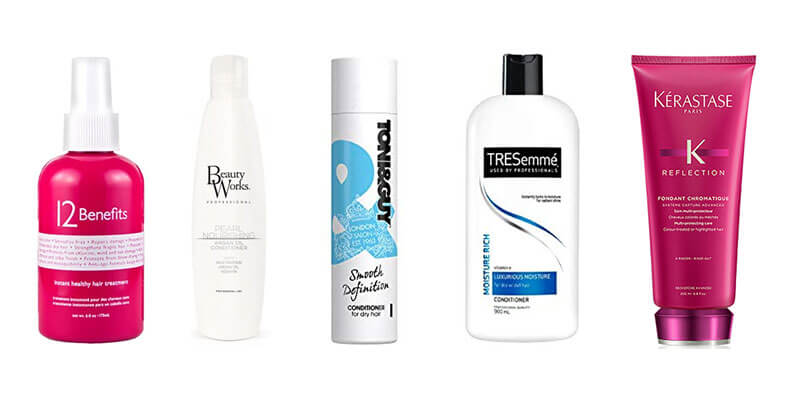 12 Benefits Instant Healthy Hair Treatment
When it comes to the 12 Benefits Instant Healthy Hair Treatment, the name says it all. The product is absolutely packed with hair goodness and should most definitely be on your payday treat wishlist. It is slightly different from your conventional conditioner as the product is sprayed onto towel-dried hair and left to work its magic – there's no need to wash it off!
Due to the plethora of active ingredients included in the 12 Benefits Instant Healthy Hair Treatment, they are, instead, placed into categories. Hidden inside is 95% proteins, 2% natural liquids and 3% moisture. Together, they work as one to hydrate the hair, boost strength and balance elasticity.
Beauty Works Pearl Nourishing Argan Oil Conditioner
As the sister of the Beauty Works shampoo mentioned previously, the Pearl Nourishing Argan Oil Conditioner comes hand-in-hand with the much-loved product. While the shampoo will gently free your hair from dirt and excess oil, the conditioner gives you the ultimate glossy finish. The deep hydration will also make it easier to detangle your locks after washing, preventing any strain on your extension bonds. When brushing your hair out after washing, we suggest using a large paddle brush, starting from the ends and working your way up to the roots.
Buy yours here at Angel Hair Extensions, or from Amazon here.
Toni & Guy Smooth Definition Conditioner
Toni & Guy has become a household name in the world of hair care, which means that it would only be fair to include their Smooth Definition Conditioner in our guide to the best products.
The brand recommends leaving the product to work its magic for around two minutes before rinsing. In doing this, you can reassure that your locks will be frizz-free and super smooth after washing. It can also be used as an intense treatment to revitalise dry hair, banishing dullness and locking in moisture. For those with extra brittle hair, Toni & Guy recommends using the conditioner alongside their Hair Meets Wardrobe Reconstruction Mask. On the other hand, if you are dreaming of silky waves, accompanying the conditioner with the Wave Memorising Balm would be perfect.
TRESemme Luxurious Moisture Conditioner
Those who are searching for a hydrating, quality conditioner, but want to avoid a hefty price tag would be best suited to the TRESemme Luxurious Moisture Conditioner. TRESemme has built a high reputation for reliable products that can be found in almost any supermarket that pop in to – you can never go wrong with quality and convenience!
The Luxurious Moisture Conditioner provides a generous dose of moisturising vitamin E without weighing your hair down, thanks to its carefully designed lightweight formula. It is gentle on your hair without compromising on intense hydration, leaving you with a salon-worthy shine.
Kerastase Reflection Fondant Chromatique Conditioner
Last, but most definitely not least, is the Kerastase Reflection Fondant Chromatique Conditioner. Designed with coloured hair in mind, the product aims to keep shades radiant and oozing vibrancy. Its most notable feature is the Système Capture Advanced, which has been created to banish any external aggressors that disturb the longevity of colours.
The Reflection Fondant Chromatique Conditioner is packed with vitamin E, along with UV filters, which, when used on hair extensions, provide the ultimate shine. Your hair will be not only glossy but also super soft and smooth.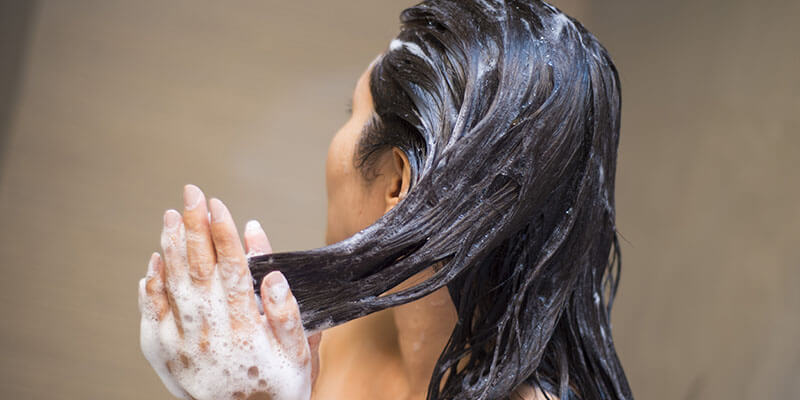 Fresh Hair, Ready To Slay
Taking time to wash your hair with care guarantees that you will wake up with flawless locks each morning. The right combination of shampoo and conditioner will keep your extensions not only glossy and smooth but also super healthy. It is essential to take time experimenting with different products to find a routine that works best for you.
If you are yet to enter the world of hair extensions, then we've got you! As specialists in hair extensions in Northampton and surrounding areas, we can make your hair dreams a reality. A vast range of hair extensions are available, all of which are seamlessly colour matched to your natural locks!