Having specialised in hair extensions in Milton Keynes for 15 years now, we recognise how much of an impact your hair can have on your confidence. If your hair is feeling thin or fine, or doesn't seem to be growing, or if you just can't seem to create the styles you want, we know this can leave you feeling down.
We understand that whether it's waking up with long thick locks, or being able to replicate your favourite celebrity styles, there really is nothing better than a full head of voluminous hair.
However, for those suffering from hair loss and thinning, this seems far from reality. In the past, there were limited options to disguise hair loss and thinning, with only wigs as a non-surgical solution, or a hair transplant for those willing to undergo surgery. This meant that results were either somewhat unnatural looking, or expensive and took months to show a noticeable difference. In light of this, and with our passion for boosting every client's self-esteem in mind, we have introduced the innovative hair loss mesh integration system to Angel Hair Extensions, and we are proud to be the first company in Milton Keynes to offer this life-changing service.
So what is this revolutionary technique, and why has it become the best solution for hair loss? Let's take a closer look!
Why Is The Hair Loss Mesh Integration System The Best Solution For Hair Loss?
According to a fact sheet published by the Wimpole Clinic, on average, we shed up to 100 hairs every day, which is perfectly normal in the hair growth cycle. Whilst it is inevitable that we will lose some hair throughout the years, there is an abundance of conditions which cause hair loss to be multiplied. Alopecia Areata, Telogen Effluvium and Thyroid Disease are just some of the many conditions which result in loss and thinning of the hair. In other instances, individuals may experience hair loss as a result of undergoing treatments such as Chemotherapy and Radiotherapy. More information on the causes of hair loss can be found on Healthline.
Whilst noticing hair beginning to thin or rapidly fall out, it can be incredibly distressing, and seeking help can seem daunting – but you are most definitely not alone. Angel Hair Extensions are here to bring back your confidence through making and fitting a bespoke hair loss mesh integration system tailored just for you. Systems are custom made specially to look just like your natural hair, achieving seamless results that are virtually undetectable.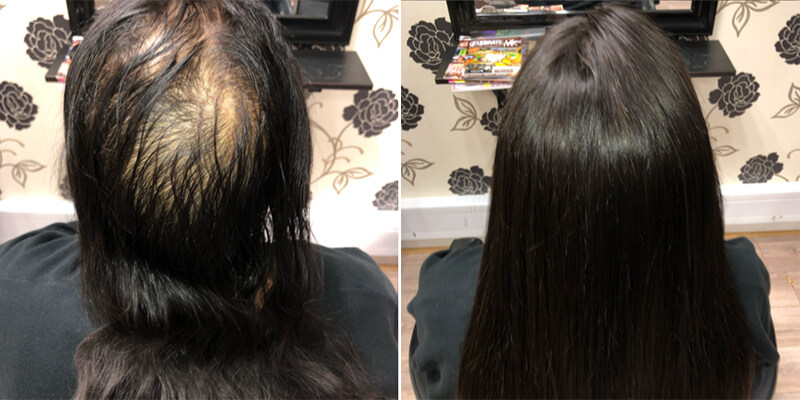 What Is A Hair Loss Mesh Integration System?
Hair loss mesh integration systems are designed for those who have too little, or weak hair to accommodate extensions. Unlike a wig, the systems are permanently secured to the head using a breathable, hypoallergenic mesh, meaning that they can be worn, washed and styled just as you would do so with your natural hair. The mesh is made with only hypoallergenic, lightweight material, making the system very comfortable, and causing no tension to the hair or scalp. This breathable mesh lets your natural hair continue to grow as normal. Colour-matched real human hair is integrated with the mesh, blending effortlessly into your natural locks for a discreet finish.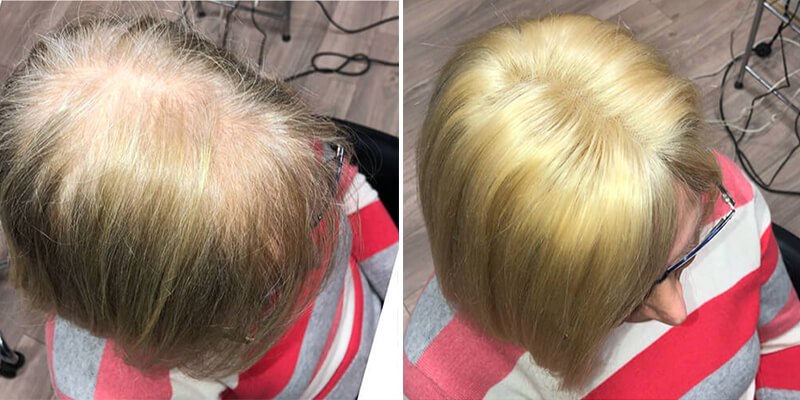 What Are The Benefits Of A Hair Loss Mesh Integration System?
Here at Angel Hair Extensions, we are proud to provide our clients with the opportunity to embrace the revolutionary life-changing mesh integration system to disguise hair loss and thinning. It comes alongside a wealth of benefits, which we're going to run through below: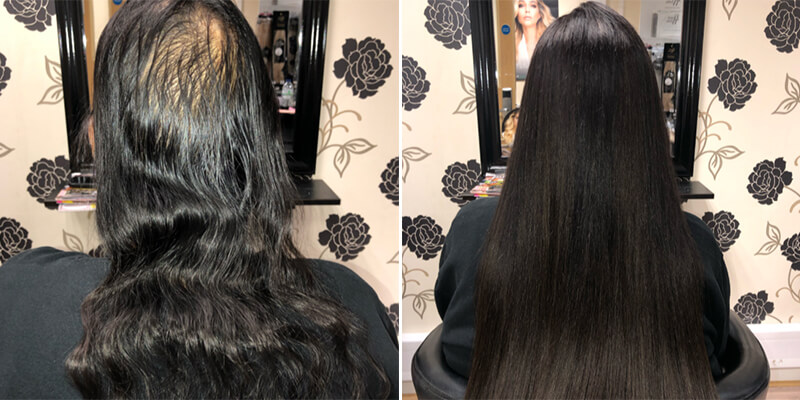 Systems Are Custom-Made
Before going ahead with a hair loss mesh integration system with Angel Hair Extensions, an initial consultation will always be scheduled for a date and time that works with you. Consultations are free and are to discuss your requirements, ensuring that the system is suitable and can be custom-made for you. One of our trained technicians will go through many important factors such as your hair loss concerns and medical history, along with how the system will work for you. This allows every aspect of your system to encapsulate your style, ensuring that you can achieve your ideal length, thickness and colour. For the most natural results, the hair used in your system will be colour matched to your natural shade; however, if you would like something a little different, this can most definitely be arranged. Ultimately, the goal of mesh integration system is to boost your confidence, helping you to feel yourself again, which means that results will always be tailored to the results that you have always dreamed of!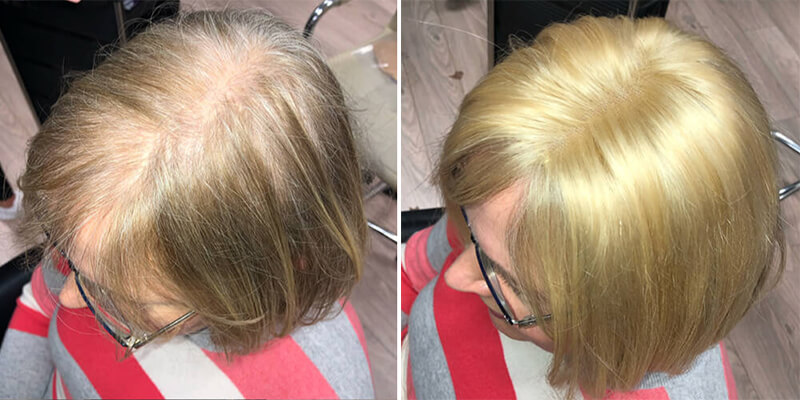 Immediate Head Of Hair
Unlike when opting for a hair transplant or treatments such as light therapy and PRP (platelet-rich plasma) therapy, there is no need to wait months for visible results. You are absolutely guaranteed to walk out of Angel Hair Extensions with a full head of thick, voluminous locks. After your initial consultation, your dedicated hair specialist will book your fitting appointment, which will give plenty of time for the entire system to be fitted in one sitting. Similarly to when opting for hair extensions, your hair will be completely transformed in as little as a few hours – who said you couldn't get the hair of your dreams overnight?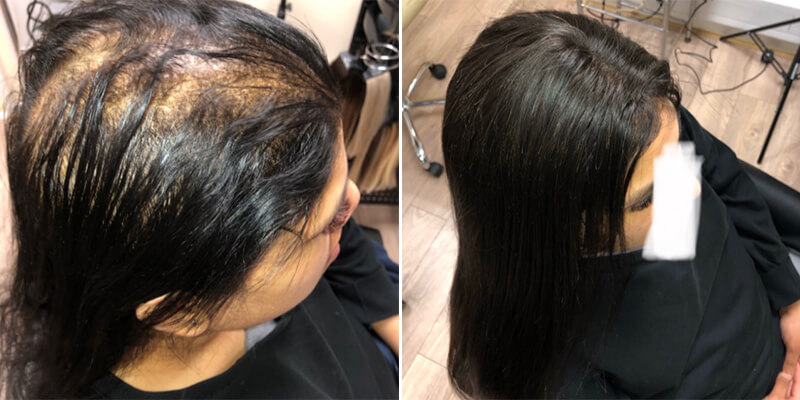 Mesh Replicates Your Scalp
The mesh used in integration systems is specifically designed to replicate your scalp, meaning that both the special mesh and extensions will not be visible to the naked eye. Unless anyone knows that you have a system fitted, they will never be able to tell that your hair is not your own natural locks. When fitting the system, the mesh is perfectly shaped to fit your scalp meaning that you are free to style your hair however you wish without having to worry about the system being seen. Particularly around the hairline, the ultra-fine mesh will be meticulously secured to camouflage the system.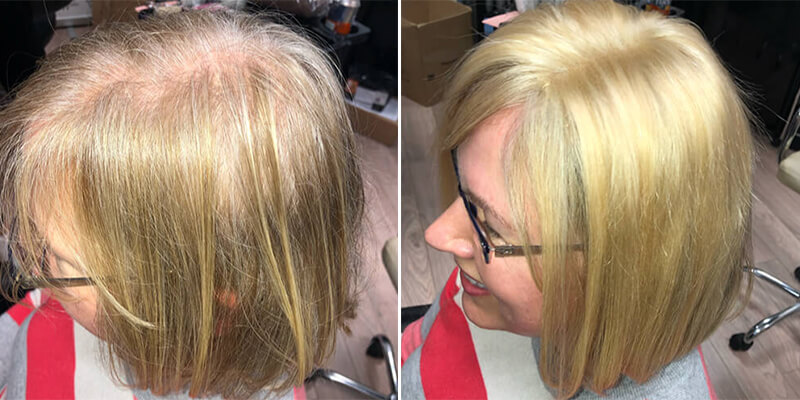 Continue Your Normal Routine
The beauty of the mesh integration system is that you can continue your normal routine without any restrictions. As mentioned previously, you can treat your system exactly as you would do your natural hair as only 100% real human extensions are used; this includes washing, drying and styling. Due to the breathable mesh used, you'll also be able to work out as normal, including going to the gym and swimming with your system fitted. If you do opt for going swimming, all we would recommend is avoiding getting your hair wet and to pop on a deep conditioning treatment the next time that you wash your hair to keep your hair in perfect condition. Just like your natural hair, chlorine can be a little damaging to extensions, so you want to keep your locks nourished. Cosmopolitan has put together a helpful guide to the 12 best deep conditioners for inspiration on what products to try!
As with all types go hair extensions, it is important to follow the correct aftercare as recommended by your technician for your hair system. This includes using the specially formulated shampoo, conditioner, and we suggest using a Beauty Works brush, starting from the bottom and working your way up to avoid pulling at the scalp. You could also consider going the extra mile by investing in a silk pillowcase to avoid friction and minimise tangling at night – they also look super cute on your bed, so it's a win-win situation!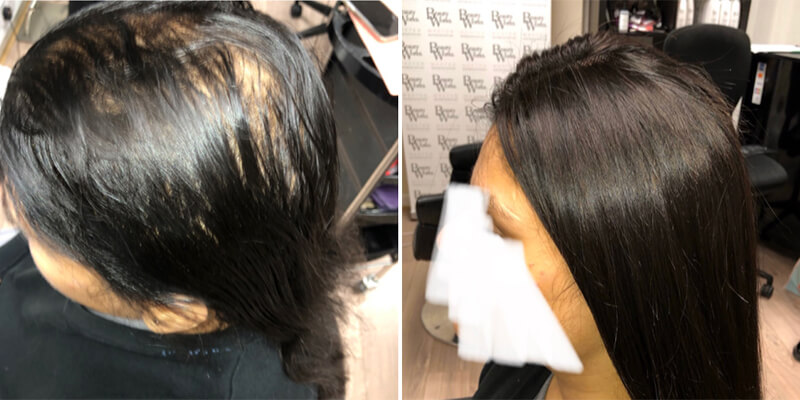 Results As Long-Lasting
With care and thoroughly following the instructions given by your Angel Hair Extensions technician, your mesh integration system can last as long as 12 months. We will always ensure that you have a maintenance appointment scheduled every six to eight weeks, just to tighten the system and make sure that the mesh remains secure and the hair extensions are in immaculate condition.
A Passion For Boosting Confidence!
Having extensive experience providing clients with bespoke hair extensions in Bedford and the surrounding areas, we most definitely recognise how much transforming your locks can boost your confidence. We are on a mission to help every client feel beautiful through providing them with the hair of their dreams, so if you are interested in discussing your options for the mesh integration system, then we're here to help. Our team are just a phone call, email or text away!