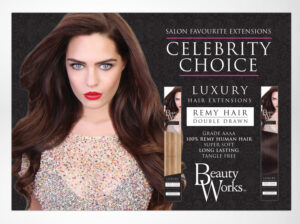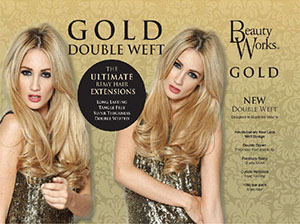 With over 10 years experience, we specialise in all types of hair extension methods so we can find the perfect method for you, your hair type, budget and lifestyle.
Hair extensions are more popular than ever, and we understand that having beautiful hair is an important part of what makes a woman feel more confident. We only use the finest quality Russian & Mongolian Remy human hair, and our main supplier is Beauty Works, a popular celebrity endorsed luxury brand of hair extensions. The hair always stays soft, silky and tangle free, ensuring you get long lasting wear for up to 6 -9 months.
We provide extension services for all requirements, with most clients having extensions fitted to add both length and thickness, and some who only want to add some thickness and volume without adding any length. Highlights or lowlights can also be created by just using extensions, so that you won't damage your own hair by colouring it. Whether you want a full head of long and thick luscious hair or just an enhancement to your own hair, we can achieve your desired results within a few hours.
Below are all the different methods we offer. Every client is welcome to a free consultation and colour match. We always talk you through all aftercare and maintenance information whilst fitting your hair extensions, and give you a free aftercare booklet to take home with you.
Consultations
Consultations are free of charge and generally take around 15-20 minutes. During the consultation we will discuss your requirements and choose the best method of hair extensions for you. Colour matching is highly important to create a natural finish. We also offer email and telephone consultations for clients who live far away. Call or email us to arrange your free non-obligatory consultation, or if you just want a chat to find out more information and discuss your requirements.
LA Weave
The new and revolutionary LA Weave is a braidless sew-in technique, similar to the traditional weaved in method but without the tight braids. There is no glue, heat or braiding involved. The weft hair extensions are sewn into the clients hair on a track of micro rings, and a full head of extensions can be achieved in just one hour with only 2-3 rows of extensions. The LA Weave feels comfortable yet secure and there is virtually no visibility of the extensions, which means being able to tie your hair up without seeing them! The LA Weave is kind to your hair and the easiest method to maintain. It lays completely flat unlike the bulky traditional braided weave. The LA Weave will last for 6-8 weeks depending on how fast your hair grows and then the same hair can then simply be refitted in under an hour. We use high quality luxury hair extensions wefts from Beauty Works, and this hair can be reused for 6-9 months providing you take good care of it.
Application Time:

1 Hour

Removal Time:

10-15 Minutes

Refit Time:

6-8 Weeks

Hair Life Span:

6-9 Months

Suitable For:

Most Hair Types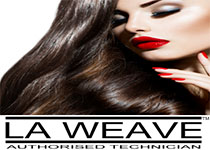 Pre-bonded
Pre-bonded extensions are individual strand extensions with a Keratin glue bond attached to the top of the strand. Keratin is a natural protein, which is kind to your hair and also promotes hair growth. Clients often find their hair grows faster with the extensions in.
They are applied using a heat connector, which heats the bond up and seals it so it's the shape of a grain of rice. The bonds are very small and unnoticeable and this method is suitable for all hair types. The pre-bonded extensions will last for 3-4 months then will need to be removed. They cannot be moved up or re-used.
They are very secure and durable, although it is extremely important that the correct hair extension shampoo is used so that the bonds stay hard and don't go soft or sticky, otherwise they will fall out easily. Most clients who follow the correct aftercare don't lose any bonds during the time they are in. Maintenance it is recommended to get some new strands of hair added after around 6-8 weeks wear to keep them looking at their best.
Pre-bonded extensions are safely removed using a special removal solution, and the removal process is pain-free, easy, and kind to your natural hair.
Application Time:

1.5 – 3 Hours

Removal Time:

1 – 2.5 Hours

Refit Time:

6 Weeks

Hair Life Span:

3-4 Months

Suitable For:

Most Hair Types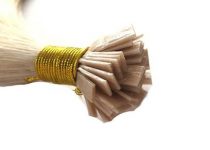 Micro Rings
The Micro Ring technique combines strands of your natural hair with stick tipped extension hair, which is secured with a small metal ring. The micro rings are made from copper with a silicone lining to grip and protect your own hair. There is no glue, heat, sewing or braids involved. Micro Ring extensions can stay in for up to six months, as you can have them moved up and re-tightened every six to eight weeks.
This method is best suited to medium and thick hair, and darker hair colours. If they are applied to very fine hair they may slip down or be visible, and they may also be visible in light blonde hair. The micro rings are available in a variety of different colours to match your hair colour. The rings are clamped securely in place and those who wear micro ring extensions say that they are comfortable day-to-day and feel completely natural.
The removal process for micro rings is very quick and easy as the rings are just opened up with the pliers and the extensions slide off.
For both the pre-bonded and micro ring extensions we use 0.8 – 1 gram strands of Russian Remy hair for the thickest overall result. Some salons only use 0.5g or 0.6g strands, which gives a much thinner overall look.
Application Time:

1.5 – 3 Hours

Removal Time:

0.5 – 1.5 Hours

Refit Time:

6-8 Weeks

Hair Life Span:

6 Months

Suitable For:

Medium – Thick Hair / Darker Hair Colours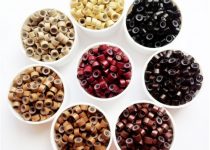 Nano Rings
Nano rings are the most advanced hair extension system, they are the smallest micro ring system in the world with the Nano rings being 90% smaller and less detectable than standard micro rings. Like the micro ring method, there is no heat, glue sewing, or braiding involved. They are very undetectable as the Nano rings are tiny and are able to be applied higher up on the head if necessary. They are perfect for all hair types but are especially suited for fine or thin hair, and for light blonde hair. The Nano ring extensions need to be fully removed and re-fitted after 3 months wear but the hair can be re-used again.
Application Time:

2 – 4 Hours

Removal Time:

0.5 – 1.5 Hours

Refit Time:

2-3 Months

Hair Life Span:

Up To 6 Months

Suitable For:

All Types Of Hair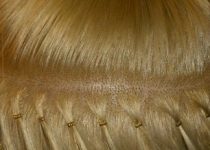 Micro Ring Weft
Micro ring weft extensions are another a great alternative to the individual hair extension techniques. They are applied using a weft of hair, whereby micro rings are then attached to it and to your own hair, which are then securely closed flat. There is no glue, heat, braiding or sewing involved. This method can stay in for around 6-8 weeks. The micro ring weft is similar to clip in hair extensions but is a more semi-permanent version without the need to remove the extensions at night or re-apply in the morning. They are quick to apply, and are removed in the same way as micro ring extensions. This method is also similar to the LA weave but consists of having more rows of extensions. Again the maintenance is easy and the hair can be re-used as it can be refitted every 6-8 weeks.
Application Time:

1 Hour

Removal Time:

10 – 15 Minutes

Refit Time:

6-8 Weeks

Hair Life Span:

6-9 Months

Suitable For:

All Types Of Hair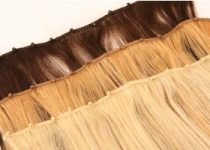 Tape In Hair Extensions
Tape in hair extensions are small 4cm wide wefts that are "taped" in between sections of your natural hair in sandwich like pieces. It is considered one of the most efficient and fast hair extension applications, and it is kind to your hair and completely damage free.
The Slim-Line Tape system integrates into the hairline by placing the extension directly on the root of the hair using lightweight tape-in hair extensions. Made from a super flat polyurethane weft strip, each pre-taped piece is ready to apply and stays fixed for weeks, with just the right weight of healthy, cuticle retained Remy hair to create a natural blend, whilst causing no stress or damage to the natural hair.
Beauty Works Slim-Line Tape extensions are hand placed onto a transparent flat PU material, minimising the thickness of other tape-in systems.
Their specially formulated medical grade adhesive means installation lasts much longer than typical tape glue, which can slip or slide usually within 2-3 weeks. Beauty Works tape-in method lasts approximately 6-8 weeks and withstands washing and brushing, and removal takes place with their specially formulated hair extension remover.
Application Time:

30 Minutes – 1.5 Hours

Removal Time:

30 Minutes

Refit Time:

6-8 Weeks

Hair Life Span:

6-9 Months

Suitable For:

Most Hair Types