Winter is all about keeping cosy with an endless supply of hot chocolate and the fluffiest of fur jackets. Although many of us do adore the frosty mornings and cuddling up on the sofa, we can't deny that the Winter does take its toll on both our skin and hair. Our skin and hair care routine seems to multiply over the colder months to help to maintain that healthy glow.
Here at Angel Hair Extensions, we are passionate about all things hair, which means that, luckily, we have tonnes of super easy, quick Winter hair care tips which can keep your locks looking luscious all year round, so keep reading!
Easy Winter Hair Care Tips
It's often hard to notice how much of a positive effect a good dose of vitamin D has on our skin and hair until the sun goes into hibernation for the year. Along with the colder, harsher temperatures, unfortunately, comes split ends and dry skin – girls you will agree, it's not a good look! This makes it more important than ever to give your hair just that little extra TLC, so you can keep it in amazing condition no matter the time of year!
1. Shampoo Less Often
There is nothing worse than greasy hair, but, could you perhaps get away with leaving your hair just that extra day before washing?
We know that it is so easy to get into the routine of washing your hair every day, but it is actually incredibly unhealthy for both your hair and scalp. Your scalp is constantly producing sebum, which is the natural oil that keeps your scalp nourished. Each time you wash your hair, you wash away the layer of oil which is keeping your hair and scalp hydrated, forcing it to overproduce oil to keep up with the constant washing. Washing your hair less actually trains your body to stop producing as much sebum meaning that your hair won't greasy as quickly!
Ideally, your hair only needs to be washed every-other-day or even every third day if you can get into the routine of it. With a spritz of dry shampoo, you will get away with hiding the little bit of grease. Why not take a look at our previous article on easy hairstyles for third day hair!
2. Once A Week Hair Mask
During the Winter, your hair is stripped of all of its moisture due to a combination of manufactured indoor heat and the dry outdoor air. As the air is dry in the Winter, once it has evaporated all of the water in the atmosphere, it turns to your hair and skin to stay hydrated.
To ensure that your hair stays super silky with a healthy shine, we suggest trying to remember to schedule a weekly hair mask into your beauty regime. It's your choice whether you opt for treating yourself to a high-end hair mask from brands such as Redken and Coco & Eve, or you get creative and make your own. If you have hair extensions, you're likely to benefit from researching a little more into what will work best with your hair extension type, you don't want to use anything that will ruin the bonds and stop them from lasting as long. For example, a lot of our lovely clients go for Keratin hair extensions in Ampthill, so for these, we'd suggest going for masks from brands like Kérastase.
Making your own hair masks is quick and easy, and allows you to tailor your ingredients to meet your hair type. Some of the most common ingredients include things such as honey, banana and coconut oil. For some inspiration on different hair mask recipes to add shine and volume, head over to Hairfinity.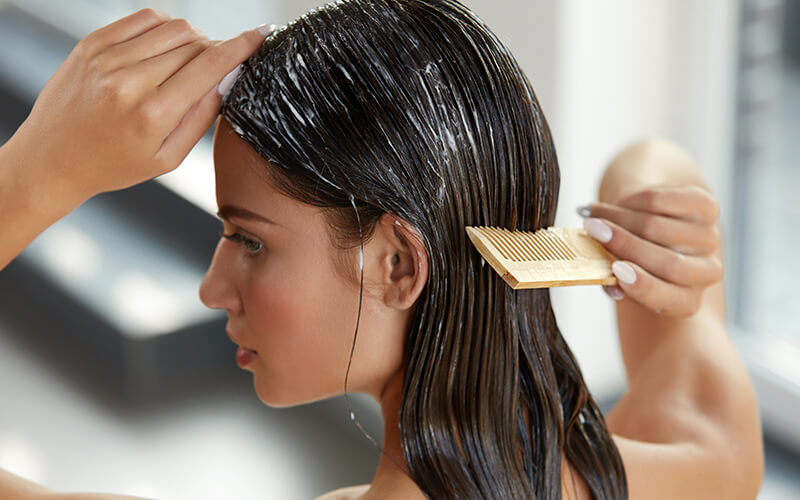 3. Use Heat Protection
Using heat protection before styling your hair with heat is ever so important no matter the time of year, but even more so in Winter. With the lack of hydration, adding excess heat will only make your hair more likely to become brittle and snap!
Adding a good-quality heat protection spray or balm before blow drying, straightening or curling will help to form a protective barrier over the hair cuticle. It means not only will your hair be less likely to become damaged, but it'll also help you to keep that gorgeous shine we all strive for!
4. Thoroughly Dry Hair
Drying your hair can be a mission, especially on those cold mornings when all you want to do is catch that extra 15 minutes snuggled in bed, but if you want your hair to stay in tip-top condition, it's important to make sure that it's thoroughly dried before stepping outside.
Leaving your hair to dry naturally is often thought to be better for its health. While this is true, it is only beneficial if you are in warm or room temperature air. Going into the cold when your hair is still damp will cause the cuticle to expand, which not only makes you more prone to breakages, but can also make your colour fade so much quicker.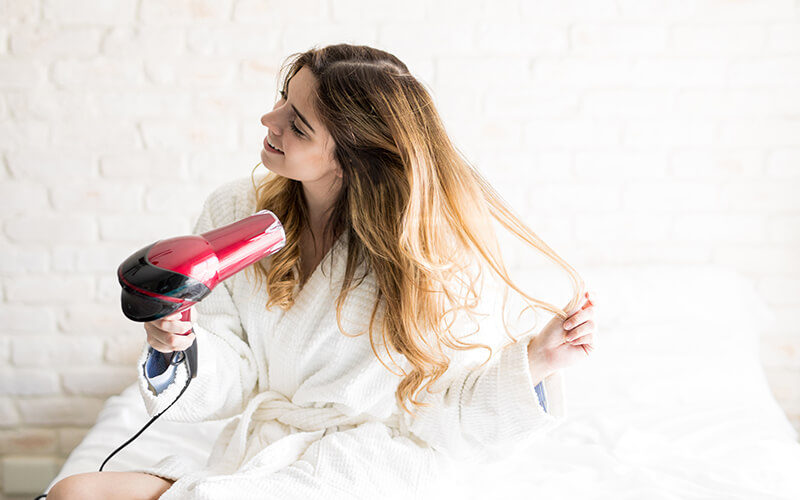 5. Invest In Silk Pillowcases
If you're feeling extra boujee this Winter then you're going to love this next tip – treat yourself to silk pillowcases!
You'd be surprised how beneficial silk pillowcases can be for both your hair and skin and even better, it makes your beauty sleep feel that little bit more luxurious. During the night as you move in your sleep, your hair will cause friction against the pillow which eventually causes split ends and damage that can only be repaired through trimming your hair. The natural properties of silk create a smooth surface which will stop the friction altogether, and even better, it'll stop that crazy bed hair!
6. Avoid Washing In Super Hot Water
Although it can be so tempting to jump into a hot shower after the end of a long day and keep turning the temperature up just that little bit more, try your best to avoid steaming hot showers. You'll be able to tell when your shower is way too hot because you'll leave with your skin looking like a bright red tomato!
Just like your skin, water that is too hot will only strip away all of the natural oils in your hair and scalp. It means that you can do all of the intensive hair masks that you please, but you'll just be washing away all of the hydration a day or so later. Hot water will cause your hair to become brittle and your roots to grow weak, so try to keep your showers at an average temperature instead of super hot – it'll still help you to warm up, just without causing any damage!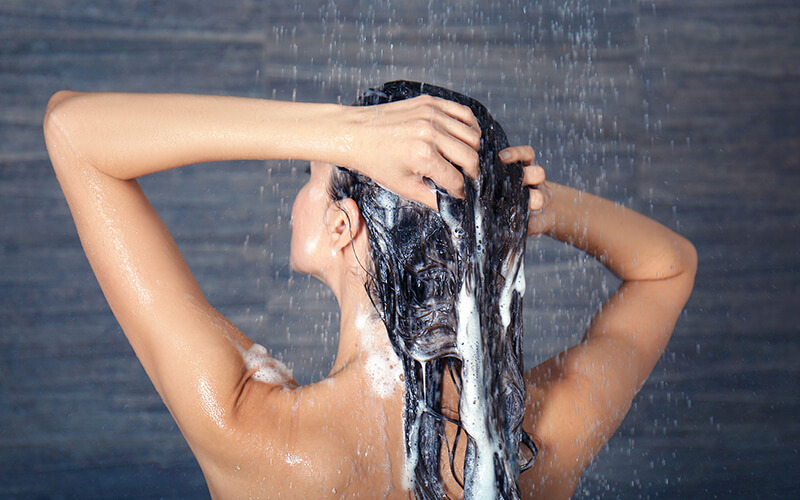 7. Go Darker For Winter
So this tip may not be for everyone, but if you're looking to switch up your hair colour, why not consider going darker for Winter?
By darker, don't worry, we don't necessarily mean switching from an icy platinum blonde to a gorgeous chocolate brown (unless you're feeling brave, we salute you!) but instead, warming up your current tone to avoid harsh bleaching over the colder months. Choosing to let your roots become darker over the Winter will help them to stay strong and filled with hydration. It stops you having to constantly use toners each time you wash your hair which will strip away your oils and dry out your follicles. Allowing your hair to have a break from dye will also contribute towards better results when you eventually do come to colouring again, allowing to brighten up your hair just in time for the sun to shine.
8. Trim Split Ends
We've all been guilty of leaving it way too long before booking a quick trim of the split ends because we've finally got our hair to the lengths we've been dreaming of! But, as much as we hate to break it to you, it's probably just about one of the worst things you can do to your hair!
Split ends don't go away by themselves, no matter how many hair masks you do and how much you care for your hair; there's no way of fusing them back together. Instead, the longer you leave them, the more they will travel up your hair strands, and they'll eventually split into multiple split ends causing what looks like a feathered effect. To avoid a build-up of split ends, we suggest booking in with your favourite, trusty hairdresser every six weeks or so to keep on top of hair maintenance. You could even time your haircuts perfectly with any special occasions you have and treat yourself to a bouncy blow dry while you're there!
It's also important to highlight that hair extensions require just as much, if not more care, then natural hair, especially if you've come to us for your hair extensions in Milton Keynes or surrounding areas. As we use only professional human hair for all extensions, so without good care, you'll also start to see split ends.
9. Nourish Your Scalp
If you've started to notice your scalp becoming drier as the colder months go by, then you'll benefit from using oil treatments to bring back the moisture. Many are often put off by using pure, organic oil on their scalp because they think it'll make their hair greasier quicker. But, good news, you will be completely fine if you do the treatment before washing your hair.
There are tonnes of different home remedies that you can use to nourish your scalp, with the most popular proving to be coconut oil and argan oil. All you'll need to do is massage the oil into your scalp before shampooing and then leaving it on for as long as you think you need; this can be anything from 10 minutes to an hour. Massaging the scalp will also help to encourage healthy blood circulation which contributes towards quicker growing hair.
For more information on the best oil for a dry scalp, take a look at this Dry Scalp Gone guide!
10. Use Leave-In Conditioner
Using a leave-in conditioner is perfect for us girls who are always on the move and struggle to find time always to do a hair mask. Leave-in conditioner comes in so many different forms from a spray to cream, so it might take some trial and error to find what works best for you. It helps to provide the hair with extra hydration and will also make it ten times easier for you to de-tangle your hair after washing.
It is always best to gently towel-dry your hair before applying a leave-in conditioner and once applied, comb through using a wide-tooth comb; this will help to make sure that all of the product is evenly distributed around the hair. Now you're ready to get styling!
If you're unsure on the best leave-in conditioner for you, we've found a handy L'Oréal Paris article which will help to guide a little more guidance!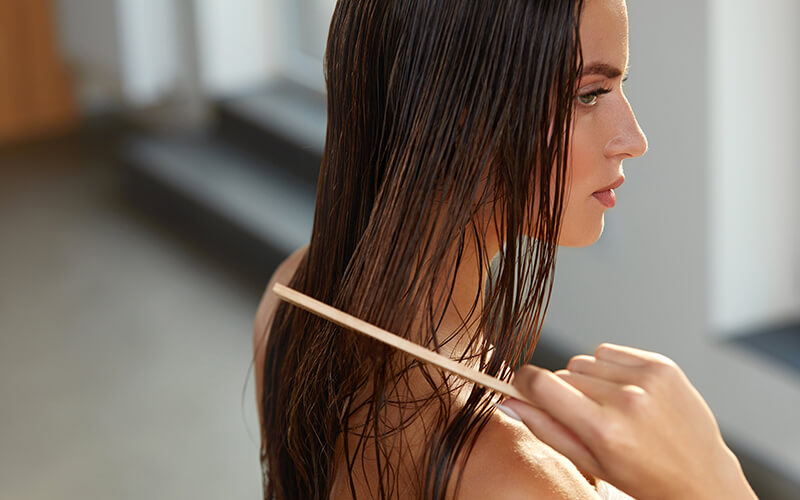 Keep Your Hair Healthy And Shining Over Winter!
So girls, a full head of gorgeous, shining hair doesn't have to be something that we have to say goodbye to as the Winter approaches. With just that little bit of extra care and treating yourself to regular hair pampering, we can guarantee that absolutely everyone will be complimenting your silky smooth, luscious locks all year round!