Whether you are a girl of glitter or darkness, this Halloween is a great opportunity to put you luscious looks to the test. Unique techniques and taking Halloween looks to a whole new level, can be achieved by using your hair as the basis for your costume. Spending time practising hair tutorials and devising the perfect look for your Halloween event is just the start of your fun night out. If you struggle to make intricate designs with your hair, then there are also some simple hairstyles that can still make a big impact. So, here are our favourite easy Halloween hairstyles for the perfect character transformation.
Stunning Yet Easy Halloween Hairstyles
It can be hard to come up with some ideas for Halloween and even when you have, it can be difficult trying to execute it. The best way to create a look without having to go out and buy an outfit, is by styling your hair extensions fitted by beauty works in Bedford. Most Halloween hairstyles look best when you have a lot of hair to work with, so make sure that you visit our salon for beauty works hair extensions in Kettering or surrounding areas.
1. Medusa
You have most likely heard of the Medusa myth, a beautiful maiden mortal with wicked snakes in her hair, turning anyone to stone with a simple look in the eyes. If you want to impress your friends and turn your enemies to stone this Halloween, why not give this fantastically sassy yet stunning hairstyle a go.
Although this hairstyle may seem a little tricky, it doesn't matter if the look turns out messy, as luckily, that is the look you are going for. You can either create your own snakes or purchase small rubber ones to intertwine within the hairstyle. To achieve this hairstyle, follow this method:
1. Make sure that you have your hair extensions in before beginning to lightly tease the ends of your hair.
2. Place multiple small sections of hair in messy buns, making sure that there are small loops in between the bun.
3. If you are creative enough to have made your own snakes, you can simply pin the snakes to your hair where ever you feel is necessary. For those that have fake rubber snakes, pull one snake through each of your buns to give the appearance that it is jumping out of your hair.
If you want to go the extra mile, you could always temporary dye your extensions with chalk or wax dyes. Dying your hair green will give you the full medusa look, so everyone will know to keep on your good side this halloween.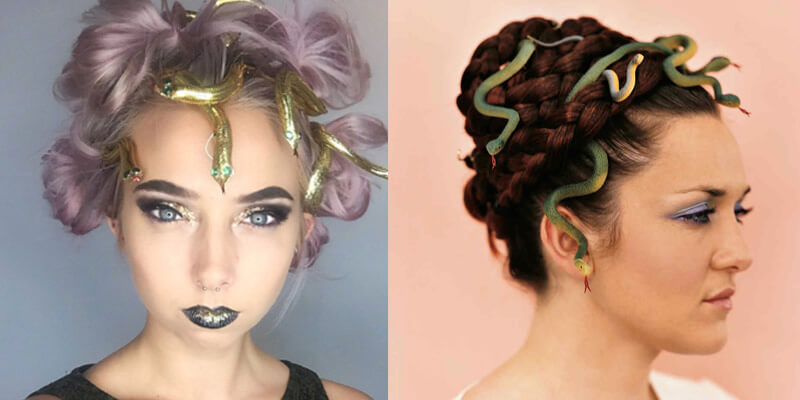 Photo credit to Hair Mag and Martha Stewart
2. Black Panther
Black Panther saw some incredible hairstyles that have left its viewers, and us, astonished. So, for Halloween, why not take some inspiration from Black Panther and try one of the detailed creations you see on screen. This look works best when you have your fresh La Weave, as this method of hair extensions is well known for its ability to look natural, even when the hair is up. You will need a lot of length for this intricate hairstyle to get its full beautiful effect so make sure that you get your LA Weave extensions in Oxford and surrounding areas.
Before starting to twist and braid your hair, make sure that you have all the little details ready to create the full impact of this look. Start by purchased some hair cuffs, so that you can incorporate them into your braids for a tribal appearance. Now, its time to get that hair looking sassy by following these steps:
1. Begin by creating four sections of hair starting from your forehead and finishing by your neck.
2.For the first section, which will be the one closest to your forehead, pull your hair into a tight ponytail, using hair gel or wax to make sure that all your hair is neatly pulled into the hairband.
3. Now, backcomb the ponytail to make it thicker. Take sections of the ponytail and begin to wrap it around the hairband to create a bun. Make sure to include a hair cuff into some of the strands before pinning them around the hairband.
4. For the second and third section of hair, take a small piece of hair from the front and make a small braid on each side. Once you have done this, repeat the same process as section one, including the braid into the hairband.
5. With the final section, backcomb the hair to make it thicker. Braid the hair, including hair cuffs as you go, and then tie the end of your hair together. Lightly pull the braid to make it look thicker, and your hairstyle is ready to take on your Halloween night.
To match the perfect Black Panther outfit to you your fabulous new hairstyle, take a look out the outfits on HalloweenCostumes.co.uk.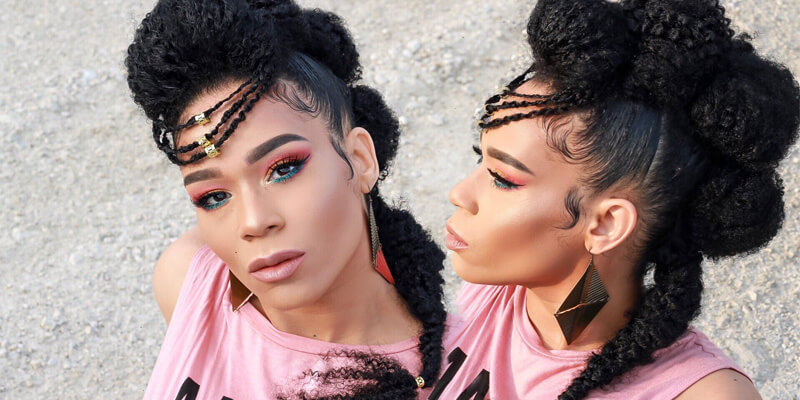 Photo credit to Pinterest.
3. Wednesday Addams
If you find technical and intricate hairstyles a little harder to achieve, or you're looking for a last-minute Halloween hairstyle, then the classic Wednesday Addams braids are an easy option. After painting your face white, lips black and putting a frown on, its time to create the iconic Wednesday Addams hair braids. Follow these extremely simple steps the recreate the queen of Halloween:
1. Part your hair down the middle and brush thoroughly.
2. Split your hair into two sections and start braiding from your jawline.
3. To go the extra mile, you could also use liquid eyeliner to create a widow's peak on your forehead so that you can be the best Wednesday Addam's lookalike this Halloween.
If your extensions are a lighter colour and you want to make them darker, use black coloured spray or wax to create the perfect dark goddess.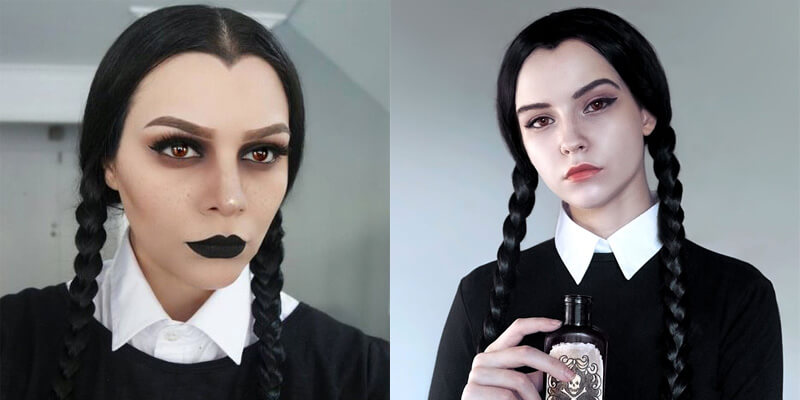 Photo credit to Cosmopolitian and Devian Tart.
4. Cat Ears
The claws come out every Halloween as cat ear headbands are popped onto heads and whiskers brushed onto faces. Take this Halloween classic to a whole new level by using your hair to create the ears. This hairstyle will have you standing out from all the other cats prowling the streets. To achieve this hairstyle, follow these simple steps:
1. Start by creating a middle parting and sectioning your hair into two parts.
2. Take one section and pull it to the top of your head, brushing it tightly into a ponytail. Again, use hair gel or wax to make sure that all the hair is neatly pulled against your head. Repeat with the other side.
3. Simply twist the ponytail around the bun, making sure that the ends meet the hairband so that the base is thicker than the top. Again, repeat on the other side.
Accompany this sassy hair look with face paint and contact lenses to make yourself truly stand out from the crowd. Take a look at Bustle's blog for inspiration and tutorials on feline makeup.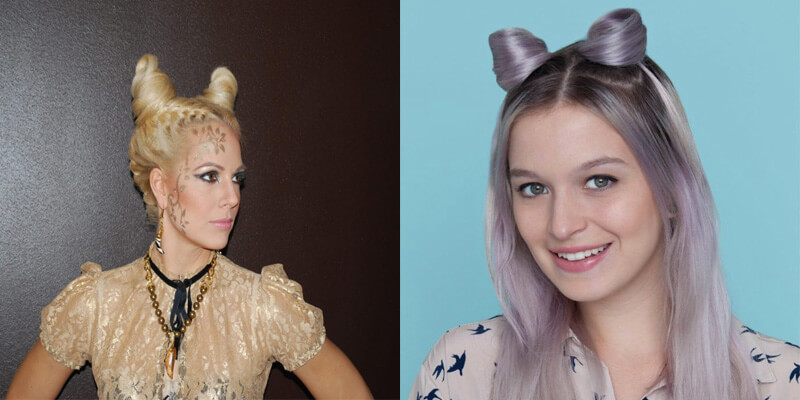 Photo credit to All Things Hair and Amberbaltics
5. Unicorn or Devil Horns?
Depending on whether you are a woman of mystery or firey lady, you can use your hair extensions to create a unicorn or devil horns. This is a quirky and unique hairstyle that looks great with glitter or a red trident. Although it may seem like an intricate and tricky hairstyle to accomplish, most of this hairstyle is achieved off the head and then attached to your hair. For this look, you will need a flexible piece of cardboard and some attachable hair extensions. Follow these steps to create this effortless look:
1. Take your cardboard and create a cone, taping it together to make sure that it stays in place. You will need to make two of these if you wish to make devil horns.
2. Wrap your hair extensions around the cone until it is fully covered with hair. Then, take a clip and secure the hair to the bottom of the cones.
3. Now its time to get the rest of your hair ready. You can choose whether to have your hair down or up in a ponytail, either way, you should try to wave or curl your hair.
4. If you wish to have your hair up, then pull your hair into a loose ponytail at the top of your head, leaving a section of hair at the front of your head. Pull at your hair to give a loose, effortless look and twist a strand of hair around the hairband. Finally, pin the horn (or horns) to the front of your head and wrap the section of hair you left out around the base of the cones.
5. For those that want to keep their luscious looks down, then simply curl your hair, add a little volume to the roots and pin the horns to your head.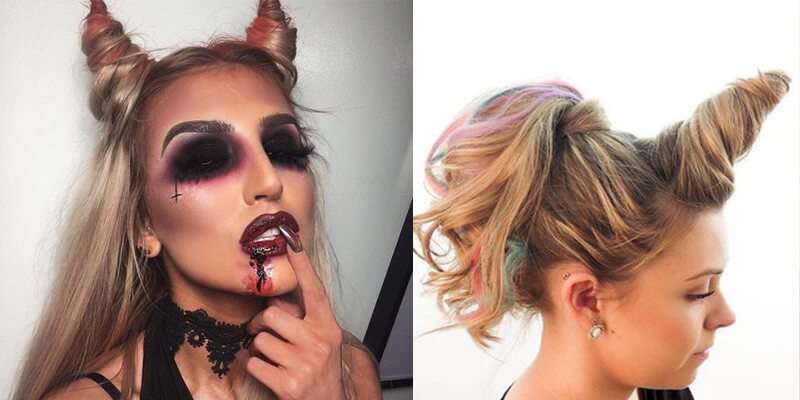 Photo credit to Vaaju
6. Television Classics
Halloween has become more about how well you can impersonate a specific character, than it is about dressing up as scary as possible. Take Heidi Klum for example, the model is well known for her funny, quirky and sometimes outrageous Halloween outfits. Her hilarious Fiona outfit from Shrek in 2018 had us all in fits of laughter.
Your hair can have a big impact on how well your outfit turns out, so be sure to try out hairstyles in advance to perfect them before Halloween night. Regardless of whether you're good at detailed hairstyles or whether you need to stick to the basics, there are a vast number of characters that you can impersonate. For those with delicate fingers and the ability to create hair masterpieces, here are some Halloween ideas:
Khaleesi-Inspired Braids
Messy Feathered Viking Fishtail Braids
Princess Leia Buns
Pirate Hair Wraps
If you find styling your hair hard but still want to make an impact on Halloween, then here are some charcter ideas:
Wonder Woman Effortless Curls
Harley Quinn Rainbow Ponytails
Princess Jasmines Bobble Braid
Rainbow Mermaid Hair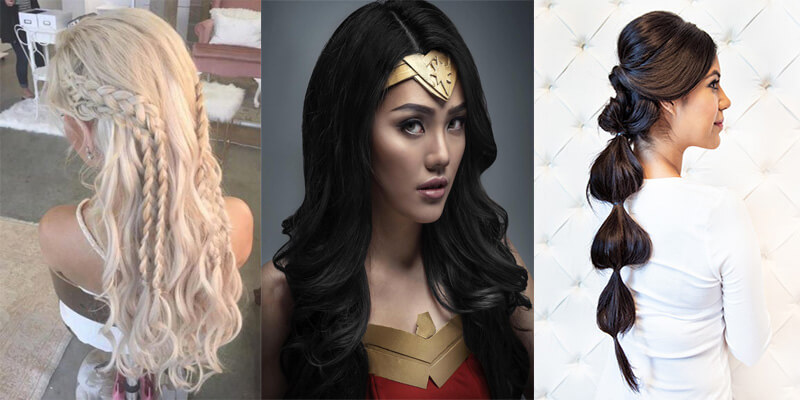 Photo credit to Foilver and The Dry bar
Halloween Hair Ready
After visiting our Hair Extensions Salon in Buckingham or the surrounding area to have your luscious hair extensions fitted, its time to get your freak on. Hair extensions can help you to create the perfect Halloween look to impress your friends. If you have tried and failed to style you hair ready for Halloween, our hair specialists are more than happy to give you further tips and tricks on how to prep your extensions before styling them.